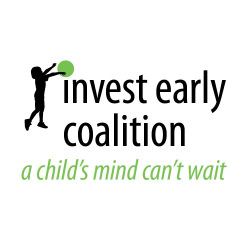 Learning begins way before kindergarten. We need to invest early!
Lack of appropriate stimulation can have serious and sustained effects on the developing child.
There is evidence that more than half the achievement gap found in later school years is already present when children enter kindergarten and this disproportionately affects children living in poverty (Source: Stedron and Shah, Recommendation One, The College Completion Agenda State Policy Guide, College Board Advocacy & Policy Center, 2010).
Investing early leads to higher returns and a more effective dK-12 system.
Arkansas Better Chance program reduces the achievement gap.
The National Institute for Early Education Research (NIEER) conducted a study in 1997 using a rigorous research design to estimate the effects of the Arkansas Better Chance program (ABC) on entering kindergartners' academic skills. The ABC Program had statistically significant and meaningful impacts on the early language, literacy and mathematical development of the 4-year-old children participating in the program and surpassed their peers who did not attend preschool (Source: Arkansas Department of Human Services/ Division of Child Care and Early Childhood Education).
Quality pre-K increases high school graduation rates.
Children who attended a pre-K program were 29 percent more likely to graduate from high school than their peers who did not have pre-K (Source: Chicago Longitudinal Study).
Quality early education leads to college/career-ready students and productive adults.
Pre-K is needed to compete globally.
Facing a decline in the number of skilled workers, American business leaders overwhelmingly back public funding for pre-kindergarten for all children to keep the U.S. economy globally competitive, according to a survey by Zogby International. More than four-in-five American Business Leaders agree that investments in effective preschool programs for children are important for the long-term success of the U.S. economy and for the U.S. to remain competitive in the global economy (Source: uschamber.com/issues/index/education/education.htm).
Quality early education supports a strong economy/economic growth.
Economists argue that early childhood development is at the top of economic development.
Art Rolnick and Rob Grunewalk, Minneapolis Federal Reserve Economists argue that in the future any proposed economic development list should have early childhood development at the top. The return on investment from early childhood development is extraordinary, resulting in better working public schools, more educated workers and less crime (Source: Millett, Scope View Strategic Advantage, U.S. Quality Early Education: A Global Competitive Imperative, Federal Reserve Bank of Minneapolis: minneapolisfed.org/pubs/fedgaz).
We need to spend wisely and support what works.
There are still an estimated *15,641 eligible 3- and 4-year-old children (below 200 percent of poverty) without an opportunity for a strong foundation. There is no more efficient tool in closing the achievement gap; the cost of not providing them with this opportunity is high and inefficient to the K-12 system.
*Funded Head Start slots subtracted to reach this total