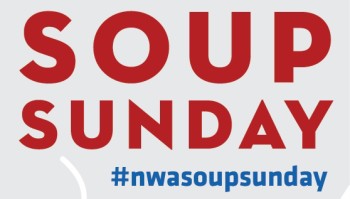 Yes! Soup Sunday is STILL ON and we look forward to seeing you Sunday!
(Don't forget your muffin tins)!
If you don't have tickets yet, you can get them at the door! $30 for adult tickets, $50 for VIP tickets, and $5 for children ages 5-12 (children younger than 5 are free).
Have fun, eat delicious food, hang out with family and friends, and also support the important work of Arkansas Advocates for Children and Families at Northwest Arkansas Soup Sunday. The 14th annual event is March 1 from 4-7 p.m.
New this year: A VIP room with two special soups prepared by Chef Alan Dierks of Vetro 1925. VIP tickets also include dessert as well as beer and wine. VIP tickets are $50 and include access to the rest of the event as well, including all the soups and all the fun.
Other restaurants and caterers taking part in Soup Sunday include: 28 Springs, Apple Blossom Brewing Co., Arsagas Cafe, AQ Chicken, Backyard Burgers Catering, Bizzy B's Bakery, Bordino's, Breyer's Ice Cream, Crabby's Seafood Bar and Grill, Early Bird Catering, The Farmer's Table Cafe, Farmhouse Cupboard, Flying Fish, Fresco Cafe and Pub, Greenhouse Grille, Green Bean, Hammontree's Grilled Cheese, The Hive, Hog Haus Brewing Co., Holiday Inn, Houlihan's, Hugo's, IDK? Cafe, Levi's Gastro Lounge & Low Bar, LongHorn Steakhouse, Mojito's Mexican Grill, Newk's Eatery, Ozark Natural Foods, Panera, Serenity Farm Breads, Springdale Country Club, Spring Street Grill, Table on the Hill, Taziki's Mediterranean Cafe and Wood Stone Craft Pizza.
We have many wonderful items already donated for our silent auction, from a cabin getaway to performances by local bands to bikes, toys and books the kiddos will have fun bidding on.
Regular adult tickets are $25 in advance (before 5 p.m. Feb. 27), $30 at the door.
Children's tickets are $5, ages 5-12.  Under 5 are free.
VIP Tickets are $50 and include complimentary beer & wine and access to the rest of the event.
We look forward to seeing you and don't forget to bring your muffin tins! (For novices, you should know that longtime Soup Sunday veterans like to bring their own muffin tins for carrying around lots of soup samples — and to cut down on waste. But it's not required). Read more about our muffin-tin tradition here.
---
Become a Souper Friend or event sponsor!
Click here for more information on how to show more than 800 attendees that you support Arkansas children.
Souper "Gold" Sponsors
Pam & David Parks
VIP Room Sponsor
Souper "Silver" Sponsors
Lynn & Joel Carver
Denise & Hershey Garner
Souper "Bronze" Sponsors
Janie & Kim Agee
Mardi & Philip Crandall
Kay & John Duval
Donna & Lewis Epley
Laura & Kyle Kellams
Dee & John Lea
Kathy & Don Pederson
Martine & David Pollard
The Schmieding Foundation Inc.
Diane & Bob Shaw
Sue & David Van Bebber
Souper Sponsors
Bettie & Dick Bond
Laura & Scott Draper
Exceptional Advocacy
Ann & Morriss Henry
Lee Anne & Mark Henry
Karen & Ken Kimbro
Leslie Landrum & Paul Bumpers
Liz Rainwater
Judy & Bill Schwab
Mary Ann & Philip Taldo
Vail Investments, LLC
Souper Friends
Anonymous
Sheri Rothwell & Woody Bassett
Kathy & Rev. Lowell Grisham
Susan & Orville Hall
Ellen & Malcolm Hayward
Carlena & Bob Lambert
Hannah & Greg Lee
Jo & Senator Uvalde Lindsey
Mary Beth & David Matthews
Janine Parry & Matt McGowan
Patsy Mooney
Ozark Film & Video Productions
Molly & Jeremy Rawn
Dr. Margaret & Dick Rutherford
Laurent Sacharoff
Stacy Sells
Wanda & Lloyd Stephens
Beth & Rick Stockdell
Stacey and Jan Sturner
Kathleen Trotter
KC, Joe, & Jimi Tucker
Warren Law Firm LLC
Shannon & Diana Gonzales Worthen
Judge Stacey Zimmerman and Sean Pitman
Marianne Zotti & Hal Shope
Media Sponsors
Cumulus–Power 105.7, KFAY-AM, NASH 94.3, NASH Icon 94.9
Northwest Arkansas Democrat Gazette