Update: Ticket sales are now closed, but tickets are available at the door on Sunday (3/4/18)!
Prices at the door: $30/adults, $10/kids (5-17; kids under 5 are free). $60/patron tickets, which include drink tickets and an extra donation. AACF. See you Sunday!
—
In 2018,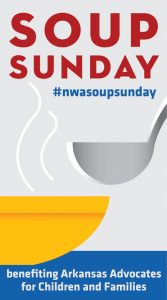 we'll celebrate 17 years of Northwest Arkansas Soup Sunday. We have LOTS and LOTS to celebrate.
AACF's Northwest Arkansas Soup Sunday is one of the most fun events in the region. Really! The atmosphere is casual and family-friendly, the food is always delicious, and the cause most important –  the future of Arkansas's kids.
Our Soup Sunday committee members are planning new things and lining up even more yummy soup vendors. So skip lunch and come hungry – there'll be plenty of soups to sample, generously donated by 30+ area restaurants. Click here to see the list. Our auction includes vacations, kids' parties and gourmet gatherings for the grown-ups, gift certificates for wine and food tastings and more.
Mark your calendar, and plan to be there. Bring your friends, your family, or anyone else who loves soup, breads and desserts, good people, fun music, live and silent auctions, and raising money for good causes. Don't forget your (optional) muffin tin! (If that makes you say, "huh?" then check out this explanation).
Regular admission adult tickets are $25 in advance – $30 after 5 p.m. on Friday, March 2nd. Tickets for children 5-17 are $10 and children younger than 5 are FREE!
Patron tickets are $50 each. Patron ticket holders receive complimentary beer and wine.
Businesses, families and individuals sponsor this event, and so can you! Join our growing list today! Here are the sponsorship levels. We'd love to have your support, so when you've found the level that suits you, email Christine to become a sponsor.
To purchase Patron or general admission tickets follow this link. For questions about this event, contact Laura Kellams (479.927.9800 or lkellams@aradvocates.org) or Christine Hartman (479.927.9800 or chartman@aradvocates.org).
Proceeds from the event support AACF's mission to ensure that all Arkansas children and their families have the resources and opportunities to lead healthy and productive lives.