Join us to celebrate 15 years of Soup Sunday fun!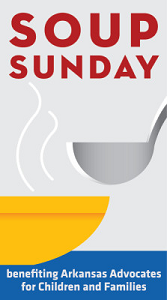 You can still get your tickets at the door!
$50 each for Signature Soup tickets (includes early admission for the best selection!)
$25 each for adult tickets ($30 after 5 p.m. (cst) on February 26th)
$10 tickets for children 5-17 years old; Free for children younger than 5
_____________________________
Northwest Arkansas Soup Sunday is moving to a new location this year! We'll be at the John Q. Hammons Convention Center in Rogers, but we're taking all the delicious family fun with us. This event is a favorite for so many longtime fans in Northwest Arkansas — this is our 15th year! Our Soup Sunday committee is hard at work planning all sorts of new things for this celebration, and we hope you'll join the fun. Our advice is to skip lunch and come hungry so you can sample some of the best soups in town, generously donated by more than 30 Northwest Arkansas restaurants. You can buy tickets here.
Not only is Soup Sunday a blast, it's the perfect event for people and families who love soup, assortments of breads and desserts, good causes, casual atmospheres, fantastic music, silent auctions, and the company of the nicest people around. For the first time, we'll have a live auction. You can bid on 7 nights in this 5 bedroom/5 bath home in Costa Rica as one of our live auction items. We'll have a 6 night/7 day stay at a 3-bedroom/2.5 bath condo in beautiful Estes Park, Colorado, up for grabs as well. Come with your friends, ready to plan your vacation together!
Adult tickets are $25 in advance – $30 after 5 p.m. on Friday, February 26th. Signature Soup tickets are $50 each. With those, you get complimentary beer and wine tickets and — THE BEST PART — you get in the event up to 30 minutes early if you so desire, ensuring you get dibs on your favorite soups. Tickets for children 5-17 are $10 and children younger than 5 are FREE!
Our sponsors are listed below. To add your name to the growing list, click here for sponsorship opportunities. To purchase Signature Soup or general admission tickets follow this link. For questions about this event, contact Laura Kellams (479.927.9800 or lkellams@aradvocates.org).
Proceeds from the event support AACF's mission to ensure that all Arkansas children and their families have the resources and opportunities to lead healthy and productive lives.
Soup Sunday couldn't happen without the support of our generous sponsors!
Presenting Sponsor
Gold Tureen Sponsor
Pam & David Parks
Silver Spoon Sponsors
Lynn and Joel Carver
Denise and Hershey Garner
Roger and Patty Harness Family Foundation
Bronze Bowl Sponsors
Janie and Kim Agee
Bettie & Dick Bond
Mardi & Philip Crandall
Kay & John DuVal
Donna & Lewis Epley
Susan & Orville Hall
Christine & Pete Hartman
Laura & Kyle Kellams
Dee & John Lea
Kathy & Don Pederson
Martine & David Pollard
The Schmieding Foundation Inc.
Sue & David Van Bebber
Souper Sponsors
Leslie G. Landrum & Paul M. Bumpers
Mayfield Flowers & Designs
Patsy Mooney
Bill & Judy Grayson Schwab
Diane & Bob Shaw
Souper Friends
Sheri Rothwell & Woody Bassett
Kathy & Rev. Lowell Grisham
Brenda & Bob Gullett
Rebecca Newth Harrison
Ellen & Malcolm Hayward
Ann & Morriss Henry
Henry & Candice Kellogg
Hannah & Greg Lee
Mary Beth & David Matthews (in memory of Michael Carver)
Kathy &  Bill McFetridge
Katie & Matt Mihalevich
Janine Parry & Matt McGowan
Molly & Jeremy Rawn
Wanda & Lloyd Stephens
Kendall & Bill Sussman
Mary Ann & Philip Taldo
Kathleen Trotter
KC, Joe, & Jimi Tucker
Mallory Van Dover & Brian Cato
Shannon & Diana Gonzales Worthen
Judge Stacey Zimmeran and Sean Pitman
Thank you to our media sponsors