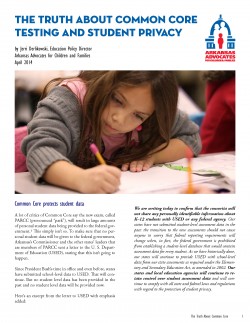 Arkansas Advocates for Children and Families (AACF) is releasing three documents aimed at helping low-income parents understand Common Core State Standards (Common Core). The documents are written in family-friendly language that is more easily understood by non-education professionals. One of our partner organizations in this work, the Arkansas Public Policy Panel, will be using the materials in meetings with parent groups in small communities around the state. This work is being supported by the Southern Education Foundation in Atlanta.
Finally, our third document in our three-part series takes on parent concerns about Common Core testing and data privacy. Some of the concerns that other states are experiencing such as high-stakes testing are not a concern here. What parents may hear on the national news may not be relevant in Arkansas.
As the meetings with parent groups from small communities are conducted, AACF will continue to develop materials to respond to questions and to correct misinformation. With a thirty-five year history of working on behalf of low-income families, AACF is in a position to be the trusted broker of information for these groups.