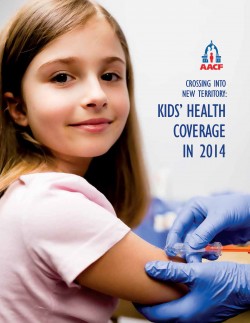 ARKids First and Medicaid provided health coverage for even more children as poverty levels in Arkansas continued to rise while the state recovered from the recession. This affordable coverage ensured that Arkansas's percentage of uninsured children continued to trend downward, helping families stay healthy and economically secure.
Most Americans believe — incorrectly — that the number of uninsured children has increased in the past five years. More than half of Americans believe at least 20 percent of children in their state lack insurance. In fact, just 7 percent of American children are uninsured.
Advocates must continue to share the success story of ARKids First and Medicaid to continue progress toward the Finish Line – a world in which all children and families have health care coverage. The Affordable Care Act, including Arkansas's "Private Option," is expected to cover half a million adults in Arkansas and help 17,000 uninsured children gain coverage. The Private Option is Arkansas's unique model for covering adults earning less than 138 percent of the federal poverty level (FPL) by using Medicaid funding to purchase private health insurance from the state's health insurance Marketplace. Arkansas pioneered this approach and was the first Southern state to cover low-income adults. The state remains one of only two in the South providing low-income families affordable coverage.
This availability of near-universal coverage should soon begin to change social norms and allow more Arkansans to maintain affordable, sufficient health care coverage, leading to full-family coverage and healthier families. It's important to celebrate our successes and plan for a future in which Medicaid and ARKids First continue to protect children's health and move families forward.