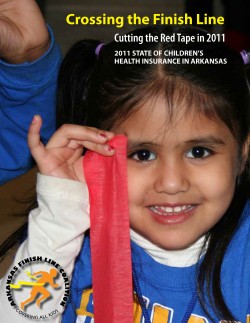 It's no surprise that recession has hurt Arkansas families, especially children. The state's child poverty rate continues to increase and is now well over 27 percent. But new data on uninsured children provide some good news for Arkansas children and families—more Arkansas kids have health coverage than ever before thanks to ARKids First (Medicaid and the Children's Health Insurance Program (CHIP) for our state).
ARKids First has helped thousands of low-income families keep their children covered despite the economic challenges brought on by the recession. Across all income levels, the rate of uninsured children dropped to 7.3 percent. The uninsured rate has not dropped as dramatically for children in families just above the income limits for ARKids First; funding the 2009 legislation to expand coverage to 250 percent of poverty could have helped these families obtain and maintain coverage.
The improved ability to look at uninsured children by geography, age, and race help paint a picture of uninsured Arkansas children that can improve ARKids First outreach efforts. The western and southern regions of the state have the highest rates of uninsured children. While early childhood programs have helped connect more kids to coverage, the rate of uninsured school-age children has barely changed, and about 10,000 of the uninsured are 18-year-olds who could be eligible for ARKids First.
The majority of uninsured children in Arkansas are already eligible for ARKids First (under 200 percent of the Federal Poverty Level) but not signed up. Among these children, more than half are white. African-American children have the lowest uninsured rate (4.9 percent) who are eligible for ARKids First, while Latino children have the highest (14.3 percent).
Even children enrolled in ARKids First are not guaranteed access to a primary care physician  (PCP) who manages their care. Up to 10 percent of children in some Arkansas counties are not assigned a PCP.