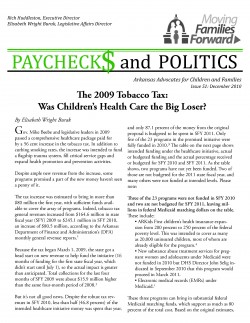 Health programs promised money through a 2009 increase in the tobacco tax haven't seen a penny, and dozens of others have been under budgeted in the last two fiscal years, according to an analysis by Arkansas Advocates for Children and Families.
An expansion of the state's child health insurance program and an electronic health records system haven't gotten any money promised in a comprehensive health package passed during the 2009 Arkansas General Assembly. The Department of Human Services in September decided to proceed with new substance-abuse slots for pregnant women and teens after a year of delaying the program.
Only five of the 23 programs in the health package have been fully funded, according to the new AACF report (download below), "The 2009 Tobacco Tax: Was Children's Health Care the Big Loser?" The 56-cent increase has generated more revenue than anticipated, yet less than half of it was spent as promised during the 2010 fiscal year, according to data from the Department of Finance and Administration. Just 87.1 percent of the original proposal is budgeted to be spent in the 2011 fiscal year.
The revenue wasn't directly tied to the health programs when the tax increase was approved and Gov. Mike Beebe has used some of it to make up for declining state revenue due to the recession, said Rich Huddleston, AACF executive director.
"We appreciate Gov. Beebe's diligence in protecting important services from major cuts," Huddleston said. "But these critical programs can help working Arkansas families stay healthy and keep their jobs. Working parents can't help pull our state out of the recession if they have to stay home with sick children."
The abandoned health programs also draw federal money into Arkansas through Medicaid matching dollars, according to the report. Every state dollar invested in Medicaid-matching programs leverages at least $6 in federal matching money and related business activity.
The ARKids First expansion and substance abuse treatment program alone have lost more than $35 million in federal matching money. That doesn't include the money lost by other Medicaid-matching programs that haven't been fully funded under the 2009 health proposal.
"Arkansas families are entering the third year of this recession and have no other savings to dip into," Huddleston said. "We need to stand by them and fully implement the ARKids First expansion."