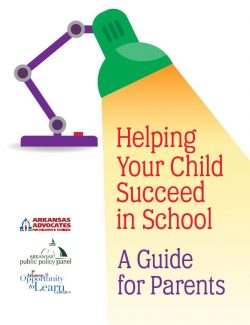 All Arkansas students have the right to high-quality learning opportunities. But not all students in our state enjoy the same learning experiences. Some young people have access to high-quality education, while others do not. This creates wide gaps in student achievement among different groups of students.
Many people in Arkansas play a role in making sure that students in the state have access to a good education. These people include elected officials, business leaders, community groups, and concerned citizens. But the role of the parent and caregiver is perhaps the most important of all.
Today, AACF – along with the Arkansas Public Policy Panel and the Arkansas Opportunity to Learn Campaign – are releasing "Helping Your Child Succeed in School: A Guide for Parents," written by Jay Barth, M.E. and Ima Graves Peace Distinguished Professor of Politics and Bill and Connie Bowen Odyssey Professor at Hendrix College.
A part of our ongoing series of advocacy guides for parents, "Helping Your Child Succeed in School" details actions parents can take at home, in their local schools, at the school district level, and on the state level to ensure their children have access to a fair, high-quality education.
Here are just a few of the topics covered in the guide:
What parents can do at home
The important role of pre-K
Choosing the right school
Your child's rights regarding discipline issues
The dollars and cents of education funding in AR
School boards and district leadership
The roles of the state legislature, state board of education, and dept. of education
Parents have the power to make sure their child has the opportunity to learn. And by learning to be an advocate, they can help make schools better for all of Arkansas's children.
Click the download button to get a copy of the complete guide. See our other guides for parents here:
The AACF Guide to School Funding
Parents' Guide to Pre-K Advocacy
What do #ARKIDSNEED from Birth to Age Eight
Make Every Day Count: Strategies to Reduce Chronic Absence in Schools