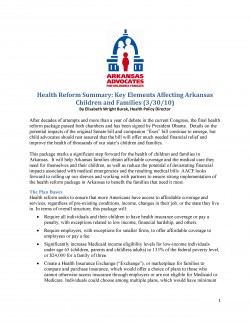 After decades of attempts and more than a year of debate in the current Congress, the final health reform package passed both chambers and has been signed by President Obama last week.  Details on the potential impacts of the original Senate bill and companion "fixes" bill continue to emerge, but child advocates should rest assured that the bill will offer much needed financial relief and improve the health of thousands of our state's children and families.
This package marks a significant step forward for the health of children and families in Arkansas.  It will helpArkansas families obtain affordable coverage and the medical care they need for themselves and their children, as well as reduce the potential of devastating financial impacts associated with medical emergencies and the resulting medical bills. AACF looks forward to rolling up our sleeves and working with partners to ensure strong implementation of the health reform package in Arkansas to benefit the families that need it most.
The Plan Basics
Health reform seeks to ensure that more Americans have access to affordable coverage and services, regardless of pre-existing conditions, income, changes in their job, or the state they live in. In terms of overall structure, this package will:
Require all individuals and their children to have health insurance coverage or pay a penalty, with exceptions related to low income, financial hardship, and others.
Require employers, with exceptions for smaller firms, to offer affordable coverage to employees or pay a fee.
Significantly increase Medicaid income eligibility levels for low-income individuals under age 65 (children, parents and childless adults) to 133% of the federal poverty level, or $24,000 for a family of three.
Create a Health Insurance Exchange ("Exchange"), or marketplace for families to compare and purchase insurance, which would offer a choice of plans to those who cannot otherwise access insurance through employers or are not eligible for Medicaid or Medicare. Individuals could choose among multiple plans, which would have minimum benefits and cost-sharing requirements. Subsidies would be available to individuals and families to help pay for Exchange coverage.
Many Elements Take Effect This Year
While the package will not be fully implemented until 2014, a number of important changes take effect almost immediately.
Young adults will be allowed to stay on their parent's policies until they are 26 (effective after September 23, 2010).
Insurance companies will no longer be able to impose lifetime limits or restrictive annual limits, nor can they drop coverage when someone becomes sick (effective after September 23, 2010).
Children with insurance no longer can be denied coverage for a pre-existing condition (effective after September 23, 2010). The same will apply to adults in 2014 once Exchanges are operational.
New plans must provide free preventive services to enrollees (effective after September 23, 2010).
Effective immediately states will be required to "hold steady" when it comes to providing Medicaid and CHIP coverage — they must at least maintain the coverage that they have in place now and no longer can add new red-tape barriers that make it harder for families to sign up for coverage.
Until Exchanges are operational in 2014, a high-risk pool will cover qualified uninsured adults with pre-existing conditions.
Child advocates should also not forget the options available to states under last year's Children's Health Insurance Program Reauthorization (CHIPRA), which make it much easier for states to enroll uninsured children who are eligible for ARKids First today. While we wait for health reform to be fully implemented, we should do all we can to cover the thousands of uninsured Arkansas children whom we can help right now.
A more detailed summary of provisions related to children and families can be found below.  In May 2009, AACF outlined Five Questions Child Advocates Should Ask of Health Reform. As with our previous analyses, the questions frame the summary.  Watch AACF's ARVoices blog and web site for updates as more details and regulations emerge.
For more information…
This overview does not offer every aspect of the bill affecting children and families.  It draws heavily from the sources below as well as the bill texts. For more analysis and detail, including other areas of importance like prevention and wellness, quality improvement, or workforce enhancements, see: