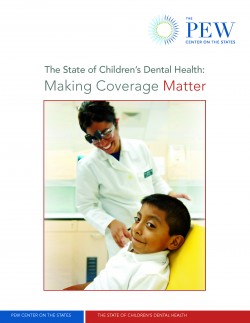 A significant increase in the number of low-income children accessing dental services pushed Arkansas up the state rankings in a 50-state report card on children's dental health released Tuesday.
The Pew Children's Dental Campaign gave Arkansas a "C" grade-up from "F" last year-for ensuring that more than half of the children in the state Medicaid program received dental services. More than 57 percent of low-income Arkansas children saw a dentist at least once in 2009, compared to the national rate of 38.1 percent.
Arkansas met four of eight policy benchmarks for improving children's oral health. The increase in the number of children getting services is due to several factors, including an increase in the Medicaid reimbursement rate for dentists and an effort by several organizations-led by Arkansas Children's Hospital-to serve children in mobile dental units.
"This is a huge jump for us," said Dr. Eddie Ochoa, Associate Professor at UAMS and Attending Physician with Arkansas Children's Hospital. "Health providers, advocates and state officials have worked hard to get Arkansas kids to the dentist. It's also exciting to know that legislation passed this year will help even more children."
The 2010 study doesn't include three significant bills passed this year that improve the dental health of all Arkansas children. The Arkansas Oral Health Coalition, a group of health policy experts, advocates and practitioners, worked with legislators during the 2011 Arkansas General Assembly to pass:
Act 89, which allows dental hygienists to perform hygiene procedures in public settings, like area health centers and public schools, without the direct supervision of a dentist.
Act 90, which authorizes trained physicians and nurses to apply a fluoride varnish to children's teeth during regular check-ups.
Act 197, which will ensure that about 87 percent of all Arkansans will have access to fluoridated drinking water by requiring community water systems serving more than 5,000 people to fluoridate the water system. Fluoridated water decreases the risk of tooth decay in both children and adults. Delta Dental of Arkansas is launching a grant program to pay the start-up costs for water systems to meet this new requirement.
The following statements come from members of Arkansas Oral Health Coalition, a group dedicated to improving children's dental health in Arkansas:
Arkansas Children's Hospital
"It's easy to prevent cavities and oral disease if kids have access to consistent dental care, and this report shows we're heading in the right direction. But we have a chance to do even better by reaching more children throughout the state. Through the ACH Mobile Dental program, Ronald McDonald Care Mobiles and the Seal the State initiative, we're taking fillings, sealants and fluoride varnishes directly to thousands of kids at their schools. When all Arkansas children have strong healthy teeth, that will really be something to smile about." – Jonathan Bates, MD, president and chief executive officer
Arkansas Department of Health, Office of Oral Health
"We are thrilled that Delta Dental, the Legislature and Governor Beebe helped us realize the changes in public health policy that not only improved our grade from Pew, but will also help every Arkansan reach optimum oral health." – Dr. Lynn Mouden, director of the Arkansas Department of Health Office of Oral Health
Delta Dental of Arkansas:
"Delta Dental of Arkansas is proud to be a part of this collaboration and the role it is playing to improve oral health. We believe our commitment is an investment in the health of all Arkansans. Tooth decay is the most common chronic childhood disease today, and the most effective way to reach children of all backgrounds is through fluoridation. – Ed Choate, President and CEO of Delta Dental of Arkansas.
Arkansas Chapter of the American Academy of Pediatrics:
"Young, low-income children are much more likely to see a pediatrician than a dentist. That's why it makes sense for pediatricians to have this opportunity to provide an additional preventive service for kids. The partnership between the dental and pediatric communities is certainly headed in a great direction." – Dr. Chad Rodgers, President of the Arkansas Chapter, American Academy of Pediatrics.
UAMS Fay W. Boozman College of Public Health:
"Our mission within the College of Public Health is to serve and improve health care standards for the people of Arkansas, we strongly believe the new fluoridation law will promote public health in the state and save state Medicaid dollars in the long run. Only about 60 percent of Arkansans already have fluoridated water. This bill will ensure that number will rise to more than 80 percent. I would say that will have a significant public health impact, specifically from a dental health perspective, on the state's population." – Jim Raczynski, Ph.D., dean of the UAMS Fay W. Boozman College of Public Health.
Arkansas Advocates for Children and Families
"We are especially grateful to Sen. David Johnson, Rep. Linda Tyler and their many colleagues who passed this landmark legislation that will improve the health of thousands of Arkansas children and families." – Elisabeth Wright Burak, Director of Health Policy and Legislative Affairs, Arkansas Advocates for Children and Families
Arkansas State Dental Association
"The Arkansas State Dental Association is honored to have worked closely with the legislature and health care partners to bring about significant improvement in oral health for the children of our state. There is still much work to be done, and the dental profession looks forward to future endeavors." – Billy Tarpley, Executive Director, Arkansas State Dental Association
Arkansas Center for Health Improvement
"Cavities and poor oral health can trigger other conditions including cardiovascular disease and even pre-term, low-birth-weight babies. Arkansas's progress in improving children's dental health is a step in the right direction for improving the future health of Arkansans." – Joseph W. Thompson, MD, MPH, Director, Arkansas Center for Health Improvement and Arkansas Surgeon General.