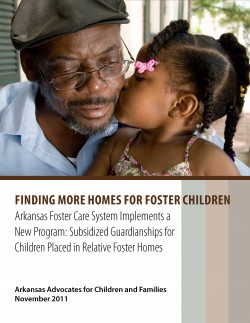 A new state program will help find more homes for foster children while maintaining important family connections by assisting relatives who are serving as foster parents, according to a new report from Arkansas Advocates for Children and Families.
The new subsidized guardianship program offered by the Arkansas Division of Children and Family Services allows family members such as grandparents to care for a child when returning to their parents or adoption aren't possible. The financial support is similar to that given to adoptive families, but without permanently severing the legal rights of biological parents.
"Arkansas has a culture of helping children in times of need and we commend the state for looking for more homes for foster children," said Jennifer Ferguson, AACF Deputy Director and author of the report. "This new program gives children another chance at a stable home. It gives a trusted, qualified relative the ability to act as a legal guardian and receive a monthly payment to help with the cost of caring for a child."
Nearly 1,000 children were placed in relative foster homes during the 2011 state fiscal year. That is about a quarter of all children who entered the state's care that year.
A new federal law provides financial assistance to states offering subsidized guardianships. In Arkansas, a relative must undergo foster parent licensing and training. A child must be in the home for more than six months and not immediately eligible to be reunited with his or her parents or adopted. The guardian is eligible for monthly payments that are typically $410 to $500 a month. The child is able to leave the foster care system in the care of the relative. There would no longer be a caseworker assigned to the child, and the child wouldn't have any more court appearances.
"In many cases a grandparent or aunt is the most logical and loving home available for a child in the foster system," Ferguson said. "The child can stay connected with family, including the parent if appropriate. The relative gets help paying for additional costs and the biological parent doesn't have to have his or her rights reinstated if they eventually are able to fully care for the child."