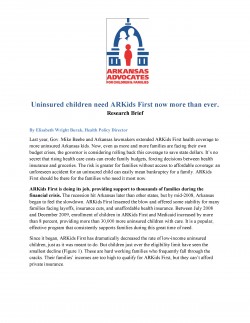 Last year, Gov. Mike Beebe and Arkansas lawmakers extended ARKids First health coverage to more uninsured Arkansas kids. Now, even as more and more families are facing their own budget crises, the governor is considering rolling back this coverage to save state dollars. It's no secret that rising health care costs can erode family budgets, forcing decisions between health insurance and groceries. The risk is greater for families without access to affordable coverage: an unforeseen accident for an uninsured child can easily mean bankruptcy for a family. ARKids First should be there for the families who need it most now.
ARKids First is doing its job, providing support to thousands of families during the financial crisis. The recession hit Arkansas later than other states, but by mid-2008, Arkansas began to feel the slowdown.ARKids First lessened the blow and offered some stability for many families facing layoffs, insurance cuts, and unaffordable health insurance. Between July 2008 and December 2009, enrollment of children in ARKids First and Medicaid increased by more than 8 percent, providing more than 30,000 more uninsured children with care. It is a popular, effective program that consistently supports families during this great time of need.
Since it began, ARKids First has dramatically decreased the rate of low-income uninsured children, just as it was meant to do. But children just over the eligibility limit have seen the smallest decline. These are hard working families who frequently fall through the cracks. Their families' incomes are too high to qualify for ARKids First, but they can't afford private insurance.