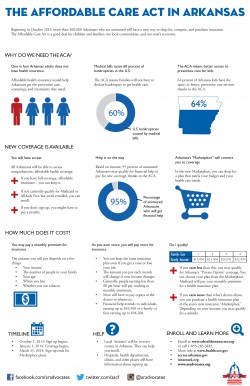 Beginning in October 2013, more than 500,000 Arkansans who are uninsured will have a new way to shop for, compare, and purchase insurance. The Affordable Care Act (ACA) is a good deal for children and families, our local communities, and our state's economy.
Download this publication to learn everything you need to know about the Affordable Care Act in one simple infographic.
En Español/In Spanish:  Esta infografía también está disponible en español.  / This infographic is also available in Spanish.