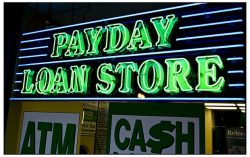 Lenders who trap honest, hard-working people in never-ending cycles of debt are trying to weasel their way back into Arkansas. There is good legislation (SB658) from Sen. Jason Rapert that would further clarify the law, and likely put an end to the recent advance of bad lenders in Arkansas. But there is even more bad legislation (HB1742, SB671, HB1958) that would make it much harder to prosecute predatory lenders who open up shop in our state.
Arkansas has strong protections for consumers who borrow money because of our state's constitutional cap on interest rates (17%). Because of that cap, the Arkansas Attorney General was able to shut down our last payday lender in 2009, and people have been clearly better off since then. But two bad loan services have reappeared in Arkansas for the first time since 2009, and they face criticism for state constitutional violations. That represents a major step backwards in a state that has been a leader in consumer loan protections.
How do the lenders get around it? They sell themselves as loan brokers or "Credit Service Organizations" (CSOs). Instead of providing a loan directly, they find you a loan with someone else (at a hefty fee). It's the same structure as traditional payday lending, but with a new name. They have the same junk fees piled on top of the same type of bad loans that are designed to be renewed over and over by people who can't pay them off.
Here are the bills that are rolling out the welcome mat for payday lenders in Arkansas:
HB1742 makes it harder for groups of people to come together and fight back against predatory lenders. This bill significantly limits Arkansas's deceptive trade practices act (the primary tool used to eliminate payday lenders in our state in the first place).
SB671 would legalize very high-cost loans, in clear violation of the Arkansas constitutional cap on interest rates.
HB1958 explicitly invites CSOs to practice in Arkansas despite, again, a clear violation of the state constitution.
One bill would likely shut the whole thing down. That is Sen Rapert's SB658. In senate committee this week, Rapert correctly stated that "people are being preyed upon" by these lenders who are skirting state law. A veteran and a representative from AARP also spoke in favor of the bill. Rapert's bill would close the door on CSOs by clarifying (the already clear) the language regarding what "counts" as interest. This would ensure that CSOs would have absolutely no legal legs to stand on. The bill passed out of committee on Thursday.
Payday loans are ridiculously bad for consumers. Arkansans save an estimated $77 million a year in excessive fees because we don't have them. That means predatory loan services is an untapped, multimillion dollar industry waiting to be broken into in our state. You can bet that payday loan companies will jump at any chance to circumvent our laws and profit off of debt traps.