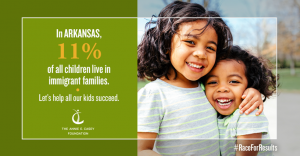 Children in immigrant families in Arkansas are more likely to live in or near poverty than their peers in other states, an indicator that underscores the importance of federal and state investments in programs that provide all children the opportunities they need to succeed.
The Annie E. Casey Foundation's 2017 Race for Results: Building a Path to Opportunity for All Children report, released today, outlines persistent challenges in child well-being that hinder the success of children of color and kids living in immigrant families. It's the second edition of the Race for Results report; the first was released in 2014.
The latest report shows that more than 80,000 children in Arkansas have one or more parent who was born abroad or are immigrants themselves. More than two-thirds of those children — 69 percent — are growing up in low-income families, or those whose incomes are not higher than $40,320 for a family of three. In comparison, 52 percent of Arkansas children whose parents were both born in the United States live in low-income families.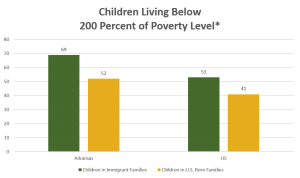 The racial and ethnic disparity in family income is even more stark, with 76 percent of Arkansas's Hispanic children living in low-income families, compared to 44 percent of non-Hispanic white children. Hispanic children in Arkansas are more likely to live at or near poverty than their peers in any other state.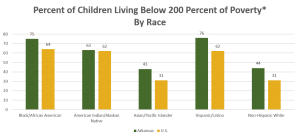 "This should serve as a wake-up call for community leaders, elected officials and policy makers statewide," said Rich Huddleston, executive director of Arkansas Advocates for Children and Families. "This shows how much work we have to do. For Arkansas to reach its full economic potential, we have to close that enormous gap before it widens in another generation."
The 2017 Race for Results report shows that children in immigrant families face particular and significant challenges, though they're doing better than their peers in non-immigrant families in some areas. According to the report, in Arkansas:
Children learning English are half as likely as their peers to read on time, by fourth grade, with just 16 percent achieving that milestone compared to 33 percent for children who grow up speaking English in the home.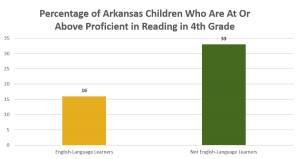 Just 49 percent of 3- to 5-year-olds in immigrant families are enrolled in preschool, compared to 61 percent of children in U.S.-born families. Quality pre-kindergarten programs can make all the difference in preparing children to succeed in school, especially those who may not speak English at home.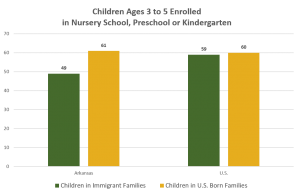 Foreign-born young adults from 19-26 are more likely to be working or in school (84 percent) than their U.S.-born counterparts (79 percent).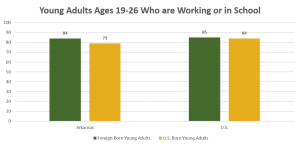 Young adults in immigrant families are less likely to have an associate's or higher degree (23 percent) compared to young adults in U.S.-born families (30 percent).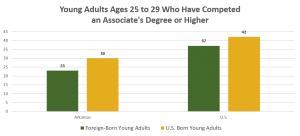 Children in immigrant families are much more likely to live in two-parent families (84 percent) than children whose parents were born in the U.S. (62 percent).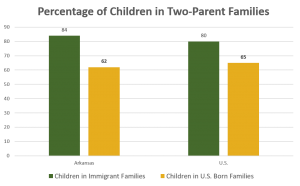 We need all children in Arkansas to reach their full potential if we are to reach ours as a state. Much of Arkansas's economic future depends on whether we equip children in immigrant families with the tools and skills that will help them learn, develop and contribute. We can't afford to wait any longer to get this right. It will take investments an all children.
The type of obstacles presented in public policy are ones we can overcome together. We must:
Increase access to high-quality pre-K programs like Arkansas Better Chance, or ABC, in communities throughout the state. When children who don't speak English at home have access to these programs, they have a much better chance at school success. For almost a decade, the state has underfunded this critical program for all children.
Fund the state's Positive Youth Development Act, which would invest in high quality afterschool and summer programs in Arkansas.
Enact as federal law the provisions of the Deferred Action for Childhood Arrivals program, or DACA. It protects young immigrants from deportation and allows them to work lawfully. Better yet, Congress should pass a federal DREAM Act, which would create a path to citizenship for those who meet the criteria.
Whether or not Congress acts, Arkansas must pass a state-level DREAM Act, which would allow undocumented high school graduates to pay in-state tuition prices. Even DACA recipients pay double and triple the tuition rates at public colleges and universities in Arkansas, though they and their families pay taxes.
Ensure that local, state and federal law avoids separating children from their parents during immigration proceedings.