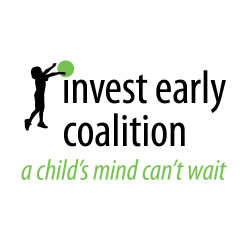 Learning begins way before students reach kindergarten. Lack of appropriate stimulation can have serious and sustained effects on a child and the whole community. The research on brain development, economic development, and educational outcomes is clear: We need to invest early.
The Invest Early Coalition is a group of parents, educators, businesses, faith communities, and organizations who are committed to working together to improve education, health, and well-being for children during their most formative years (ages 0-5). The coalition was founded 10 years ago to advocate for increased investment in the state-funded pre-K program, Arkansas Better Chance (ABC). After the coalition's efforts to educate and lobby legislators and the public about the important benefits of early childhood education, the General Assembly voted to increase permanent funding for ABC by $110 million. The Invest Early Coalition is back, this time to address a persistent problem that has negatively impacted the quality of early childhood education in Arkansas.
The Invest Early Coalition is excited to release its 2018-2019 Advocacy Agenda aimed at increasing the quality of early childhood education in the state by strengthening the early childhood education workforce. A recent UAMS workforce study of Arkansas's early childhood educators found that 40% of those surveyed were food insecure; they don't always know where their next meal is coming from. While that statistic is stark, it is not unsurprising to many who work in the early childhood education field.
Want to join an Invest Early Coalition committee? You can apply here. 
Ages zero to 5 are the most critical years for a child's brain development, yet the educators tasked to help kids learn and grow during these years have been consistently undervalued. And many great educators are forced to leave the field as a result. This negatively impacts the quality of education that Arkansas's littlest learners receive and results in kids missing out on the full benefits of early education. The Invest Early Coalition's Advocacy Agenda works to change that and improve quality by investing in educators, providers, parents, and businesses who support early childhood education.
Want to stay up-to-date with the work of the Invest Early Coalition? Sign-up here and check the "Education:Early Education" box at the bottom of the page. You can also sign-up for information about other issues you care about.
See our INVEST EARLY ADVOCACY TOOLKIT to learn how you can help make early childhood investment a priority for Arkansas.
Quick Facts:
More than half the achievement gap found in later school years is already present when children enter kindergarten, and this disproportionately affects children living in poverty (Source: Stedron and Shah, Recommendation One, The College Completion Agenda State Policy Guide, College Board Advocacy & Policy Center, 2010).
Investing early leads to higher returns and a more effective K-12 system.
Studies have found that the Arkansas Better Chance (ABC) pre-K program reduces the achievement gap among 4-year-olds by improving early language, literacy, and mathematical development, compared with their peers who did not attend preschool (National Institute for Early Education Research (NIEER); Arkansas Research Center).
Children who attend pre-K are far more likely to graduate from high school than their peers who did not attend pre-K.
Quality early education leads to college/career-ready students and productive adults.
Quality early childhood education is critical for our state to compete globally.
Facing a decline in the number of skilled workers, American business leaders overwhelmingly back public funding for pre-kindergarten to keep the U.S. economy globally competitive, according to surveys by Zogby International.
Economists recommend that any economic development proposal should have early childhood development at the top. The return on investment from early childhood development is extraordinary, resulting in better working public schools, more educated workers, and less crime (Source: Millett, Scope View Strategic Advantage, U.S. Quality Early Education: A Global Competitive Imperative, Federal Reserve Bank of Minneapolis).
We need to spend wisely and support what works.
There are still an estimated 15,641 eligible 3- and 4-year-old children (below 200 percent of poverty) without an opportunity for a strong foundation. There is no more efficient tool in closing the achievement gap; the cost of not providing them with this opportunity is high and inefficient to the K-12 system.
*Funded Head Start slots subtracted to reach this total