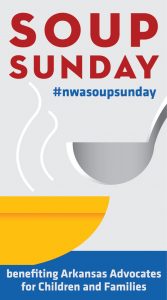 Advance ticket sales are CLOSED, but you can still buy tickets at the door on Sunday! Hope to see you there! 
AACF's Northwest Arkansas Soup Sunday is one of the most fun events in the region. Really! The atmosphere is casual and family-friendly, the food is always delicious, and the cause most important –  the future of Arkansas's kids.
Our Soup Sunday committee members are planning new things and lining up even more yummy soup vendors. There'll be plenty of soups to sample, generously donated by more than 40 local restaurants, caterers, food trucks and vendors. This is a record, so skip lunch and come HUNGRY!
Our auction includes vacations, kids' parties and gourmet gatherings for the grown-ups, gift certificates for wine and food tastings and more. The Cocktail Club will entertain us again this year, and as always, we'll have special songs and fun for the kids!
Mark your calendar, and plan to be there. Bring your friends, your family, or anyone else who loves soup, breads and desserts, good people, fun music, live and silent auctions, and raising money for good causes. Don't forget your (optional) muffin tin! (If that makes you say, "huh?" then check out this explanation.)
Advance ticket sales are CLOSED, but you can still buy tickets at the door on Sunday! Hope to see you there! 
Regular admission adult tickets are $35 in advance – $40 at the door. Tickets for children 5-17 are $10 and children younger than 5 are FREE!
Patron tickets are $60 each. Patron ticket holders make an extra donation to support our work, and their tickets include complimentary beer and wine.
Businesses, families and individuals sponsor this event, and so can you! Here are the sponsorship levels. We'd love to have your support, so when you've found the level that suits you, call us at (479) 927-9800 to become a sponsor, or just donate online by choosing the level you want after registering.
To purchase Patron or general admission tickets follow this link. To order over the phone or for other questions about this event, just contact us at (479) 927-9800. Online and advance ticket sales are closed, but please come in person to make your purchase on Sunday! 
Interested in volunteering? Click this link to sign up for a specific task. And thanks!
Lynn & Joel Carver
Rep. Denise and Hershey Garner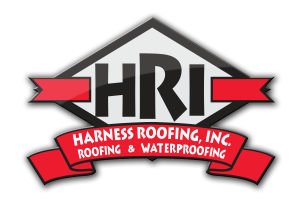 Kathy & Don Pederson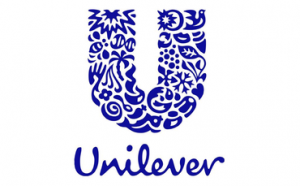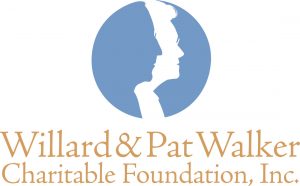 Bronze Sponsors
Adventure Subaru
Janie & Kim Agee
Gayatri Agnew
Kay & John Duval
Susan & Orville Hall
Harps Foods
Christine & Pete Hartman
Laura & Kyle Kellams
McDonald's Restaurants of Northwest Arkansas
Katie Mihalevich, REALTOR®
Patsy Mooney
Martine & David Pollard
Schmieding Foundation
Judy & Bill Schwab
Kathy Trotter & Charley Reese
Sue & David Van Bebber
Michelle & Larry Wright
Souper Sponsors
Leslie Landrum & Paul Bumpers
Mardi & Philip Crandall
Malcolm & Ellen Hayward
Candice & Henry Kellogg
Kutak Rock
Jana & Mac Mayfield
Ozarks Electric Cooperative
Laurent Sacharoff
Simmons Bank
Dewitt & Cynthia Smith
Curt Stamp
Barbara Taylor & Forrest Goddard
Souper Friends
Sheri & Woody Bassett
Alison Jumper & Jon Bitler
Cheryl & Steve Click
Bonnie Cook
Brenda Deal
Kathy & Rev. Lowell Grisham
Brenda & Bob Gullett
Ann & Morriss Henry
Gwynne Gertz & David Jolliffe
Missy & Bill Kincaid
Carlena & Bob Lambert
Dee & John Lea
Mary Beth & David Matthews (in memory of Michael Carver)
Linda & Bob McMath
Justin & Susan Sullivan Miller
Todd Cleveland & Julianna Munden
Laura & Tyler Olson
Matt McGowan & Janine Parry
Wanda Stephens
Jackie Telfair & Tod Yeslow
KC, Joe, Jimi, & Lou Tucker
Pattie & David Williams
Amy & Brent Yearry
Sean Pitman & Judge Stacey Zimmerman 
Media Sponsors
​​​​​​​