Join us as we share the results of the annual Annie E. Casey Foundation KIDS COUNT Databook, outlining how Arkansas kids fared in the foundation's wide-ranging measures of child well-being. We'll TOAST the successes, discuss where we're falling behind, and — most importantly — outline how public policy can truly improve children's health, outcomes and overall opportunities.
It will be a party! We'll celebrate with the nicest folks around, fellow child advocates who want to help us move our state forward. This is a "friendraiser" and a fundraiser to support our work to improve child well-being in Arkansas through sound public policy. There's no cost to attend, but donations are encouraged and appreciated.
It's a drop-in event, but we'll have a brief program at 6 p.m. Your children are welcome… We'll have ice cream provided by the Walmart Museum!
If you'd like to join our list of co-hosts, contact Missy Kincaid today at (479) 927-9800 or email her at mkincaid@aradvocates.org.
We hope you'll join us!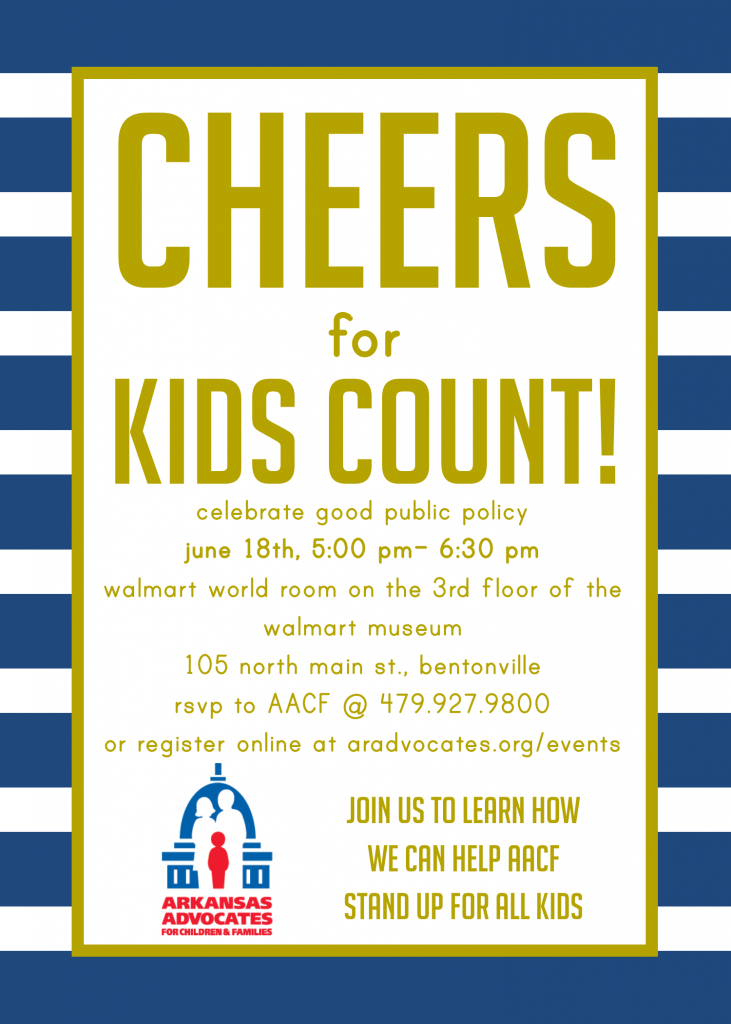 Thanks to our co-hosts
Gayatri & Ryan Agnew
Jen & James Beck
Kristen Boozman & John Schmelzle
Xochitl Delgado Solorzano
Angela & Justin DeLille
Rep. Dan Douglas
Rep. Denise &  Dr. Hershey Garner
Amy Herzberg & Bob Ford
Pam & David Lightfoot
Debbie & Mike Malone
Kayla & Mike Malone
Judy E. & Rev. Dr. Michael L. Mattox
Dr. Susan Sullivan & Justin Miller
Yvette Murphy-Erby
Martine & David Pollard
Betsy Reithemeyer
Jennifer & Dr. Kenton Ross
Kate & Greg Schaffer
Judy & Dr. Bill Schwab
Gina & George Shelton
Mary Ann & Philip Taldo
Kathy Trotter & Charley Reese