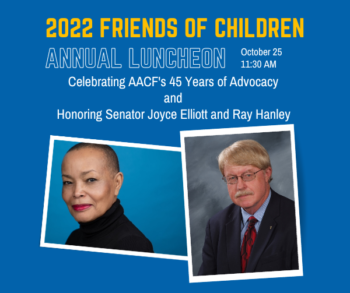 In 1977, a group of 10 concerned Arkansans founded Arkansas Advocates for Children and Families (AACF), believing that children needed an independent voice to speak up for their interests.
In that spirit, AACF invites you to join us for our annual Friends of Children Annual Luncheon on Tuesday, October 25. This special event celebrates the power of advocacy in improving the lives of children and families across our state.
We are planning for an in-person event that will be presented in a Covid-19 mindful way. We will follow CDC-related guidelines in effect at the time. We appreciate everyone's cooperation as we do all we can to make this event safe, festive and memorable for all, and especially for our honorees!
Tickets are $50 each, and sponsorships start at $650.
Please join us in person only if you are fully vaccinated against COVID-19. Virtual tickets are also available for this year's event, for $35 each.
This year, we are privileged to honor Senator Joyce Elliott and Ray Hanley for their important work on behalf of our state's children, and for all they've done to ensure that kids in Arkansas have the resources and opportunities they need to be healthy and successful.
You'll find more information about our honorees here.
At the event we will also celebrate 45 years as a nonprofit organization advocating for Arkansas children and families. Since 1977, AACF's legislative advocacy and policy recommendations have helped create enduring social change in our communities. Our work has helped reduce the number of uninsured children in this state from 21 to 4 percent, increase access to quality pre-K education for 3- and 4-year-olds from low-income families, overhaul the juvenile justice system in our state, and advance smart economic policies that help families and communities thrive. All proceeds from the event – sponsorships, ticket sales and donations – benefit the work we do at AACF. Your support helps to make Arkansas an even better place to be a child.
If you have questions or would like more information, contact Fran Carter at 501-454-5014 or by email: fcarter@aradvocates.org.  We appreciate your consideration and look forward to having you with us on October 25!
---
We Thank Our Sponsors
All of us at AACF would like to thank the following "friends of children" for their support of our luncheon! Thank you all for helping us to recognize our honorees for their decades of work on behalf of Arkansas's children. You'll find more information about sponsorship benefits here.
To join this list of generous sponsors and friends, please contact Fran Carter at at 501-476-3477 or email fcarter@aradvocates.org.
Corporate Sponsors
Arkansas Blue Cross and Blue Shield
The Methodist Foundation for Arkansas | Charitable Endowment Funds
UAMS Winthrop P. Rockefeller Cancer Institute
Drs. Gary and Becky Wheeler
Friend of Children Sponsors
Table Sponsors
Chuck Cliett and Jay Barth, PhD
Nikki Edge, PhD
Eric McDaniel and Chad Rodgers, MD