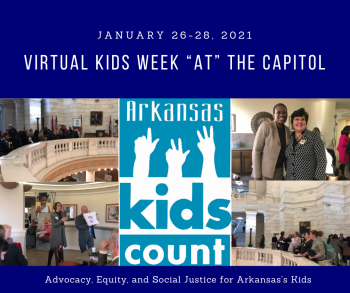 Join the Arkansas Kids Count Coalition for our first virtual Kids Count Week "at" the Capitol. Laws reflect the people who show up. And this week is all about ensuring that advocates for children show up at the state Capitol in 2021 to advance equity and social justice. You will have an opportunity to virtually: attend legislative committee meetings, network with other advocates, learn about pending legislation, hear from leaders around the state, and, most importantly, find out how you can take action to help our state's kids including during the event. We will have some fun too! Stay tuned for more details.
Register below, separately, for each meeting you would like to attend.
Tuesday, January 26th
1:00pm-2:00pm Kids Count Rally "at" the Capitol Register
Let's get ready to lobby! Hear from advocates for kids from around the state about the issues they care most about and the power of advocacy.
2:30pm-3:30pm Immigrant Rights and Racial Justice in Arkansas Register
What can the state legislature do this year to advance equity in Arkansas? We will talk about policies that would move equity forward, policies that would move us backward, and how you can help.
Wednesday, January 27th
10:00am-11:00am Issue Meeting: Comprehensive Health & Health Care Register
It's time for Arkansas's annual check-up. Experts will discuss where Arkansas currently stands in a range of health care issues and what Arkansas needs to do to be "healthier." Speakers will also share how advocates can help.
12:00pm-1:00pm Networking Lunch: Capitol Quiz Game Register
When networking, important information, and games combine: join us for a Capitol Quiz Game where you can connect with your peers while learning important facts about the General Assembly.
2:00pm-3:00pm Issue Meeting: K-12 Education Register
Get sorted on what decisions get made where. Education advocates will talk about the role the General Assembly, state board of education, and local school boards play in education policy and ways you can advocate at each level.
Thursday, January 28th
10:00am-11:00am Issue Meeting: Family Economic Well-being Register
Action! We will be speaking up for families throughout this event. You will be connecting with legislators on important issues they will be considering around family economic well-being. And we will share policy information and tips on contacting legislators.
1:00pm-2:00pm Issue Meeting: The Early Childhood Sector Register
We will start by giving a quick overview of the role different government entities play in making decisions for the early childhood sector in our state. Then we will go over 5 things you can do in 5 minutes to help advance policies that support the early childhood field in Arkansas.
2:30pm-3:00pm Where we go from here: advocacy & lobbying at the Arkansas General Assembly
After a week full of important policy and advocacy discussions, what's next?
Watch on Facebook
Today
Find out who your state representative and senator are.
Follow them on social media.
And email them to introduce yourself and discuss the issue/s you care most about.