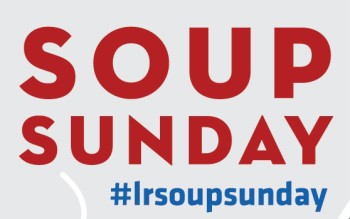 On Sunday, February 8th, the Statehouse Convention Center was packed with people happy to see friends old and new, sample absolutely delicious food served by over 35 local restaurants, bid on great silent auction items, and dance to music by the Big John Miller Band. Thanks to event sponsors and the 1,500 people who shared dinner with us that night, $100,000 was raised to support the work of Arkansas Advocates for Children and Families. To see some of the pictures that were taken that night, follow this link!
Soup Sunday has been AACF's primary fundraiser since 1981, and it's a soup lover's dream. As you might imagine from a children's advocacy group, the event is super casual and very family-friendly, providing lots of way for kids of all ages to attend and have a blast!
Mark your calendar for Sunday, January 31, 2016 from 4 – 7 p.m. and plan to join us for our 35th annual Little Rock Soup Sunday event at the Statehouse Convention Center.
Lots of businesses, individuals and families sponsored Soup Sunday 2015, some of whom are listed below. To see a full list of 2015 sponsors, click here. To learn about sponsorship levels and benefits for the 35th annual event, email Mallory Van Dover.
We are "souper" thankful for the 2015 Little Rock Soup Sunday sponsors!
Silver Spoon Sponsors
Louis and Mary C. Cabe Foundation
Becky and Gary Wheeler
VIP Room Sponsors
Linda and Rush Harding
Masching Financial Group
Olds Foundation
Bronze Bowl Sponsors
Jay Barth and Chuck Cliett
Edward Jones/Kirk Bradshaw and Kevin Kordsmeier
Dr. and Mrs. Louis W. Elkins
Rick Fleetwood
Brenda Mize
Munro Foundation
RH Cuisine
Souper Sponsors
American Academy of Pediatrics, Arkansas Chapter
Arkansas Community Foundation
Arkansas Governor's Developmental Disabilities Council
Arkansas Pediatric Clinic
Arkansas State Dental Association
BancorpSouth Insurance
Corning Publishing Company
Crews & Associates, Inc.
Delta Dental of Arkansas
Dover Dixon Horne PLLC
Angela Duran and Lill Lewis
Edwards Food Giant
Tamika and Quincy Edwards
EGP, PLLC
Flowers Pediatric Clinic – Pine Bluff, AR
The Frueauff Family
Catherine Grunden
JPMS Cox
Kamps & Stotts, PLLC
The Moore Family
Cindy Nash
Paschall Strategic Communications
Ann Burton Portis
QualChoice
Quattlebaum, Grooms & Tull, PLLC
Regions Bank
Chad Rodgers and Eric McDaniel
Simmons Bank
Team for Children at Risk
Barbara and George Wise
Wright, Lindsey & Jennings
Media Sponsors
Want to join the list of sponsors?
Follow this link to decide what sponsorship level suits you, and email Mallory Van Dover or call her at 501-371-9678 x 107 to sign up as a sponsor of one of the most fun events of the year!