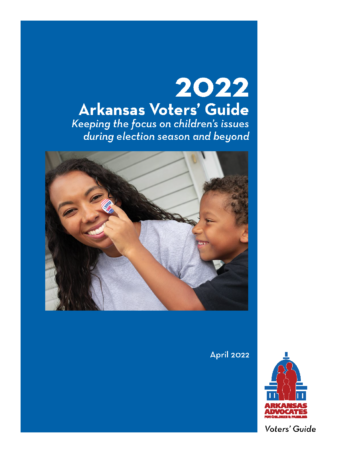 Elections are the cornerstone of our democracy, and they provide many opportunities for you to engage and participate as a voter and an advocate. From attending candidate events, volunteering on a voter registration drive, to of course, voting, there are many ways for you to exercise your rights and take part in the election process.
In 2022, Arkansas voters will elect candidates to the Arkansas General Assembly and the U.S. Congress. These policymakers will have the power to pass and influence public policies that will shape the resources and opportunities available to help future generations of Arkansas's children and families thrive and succeed, especially our most vulnerable children and families. Our goal at Arkansas Advocates for Children and Families is to make children a top priority for Arkansas voters and candidates this election season.
Our 2022 Voters' Guide is will help you become informed on issues impacting Arkansas's children and families, learn more about voting in Arkansas and your rights as a voter, and provide you with thoughtful questions to ask candidates who are seeking your vote.
Download the full 2022 Voters' Guide
Tips for Voters and Ways to Engage
Issue Areas
Early Childhood Education and Care
Immigrant Children and Families