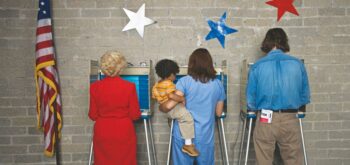 Download this handout: Tips for Voters and Ways to Engage
Elections are the cornerstone of our democracy, and they provide many opportunities for you to engage and participate as a voter and an advocate. From attending candidate events, volunteering on a voter registration drive, to of course, voting, there are many ways for you to exercise your rights and take part in the election process.
Make sure your voter registration information is up to date at voterview.ar-nova.org/ VoterView. There you can also find out where your voting location is and review a sample ballot where you can see what races and ballot measures to expect.
Learn about the proposed state laws and constitutional amendments that will be on the ballot at University of Arkansas Cooperative Extension's (UAEX )website uaex.uada.edu/ business-communities/voter-education/
Develop questions for candidates based on the things you care most about.
Do your research on candidates and their positions and ballot measures. In addition to the standard go-to methods for researching candidates (local news, candidate social media pages, and websites), you can also email or call the candidates to ask them their position on an issue or go to candidate forums. Local political parties host forums near the primary elections. And civic groups, like League of Women Voters, also host forums and invite candidates to speak at events. Many forums are often available on live streaming video. When researching ballot measures, in addition to checking out UAEX's website, visit the social media accounts of campaigns for and against measures. Share reliable information and events you find with your friends and family.
Use elections as an opportunity to advocate on issues you care about. If there is an issue you are passionate about, and you want to advocate for it at the Capitol, you can ask questions at candidate forums to raise awareness about an issue with the media and the public. You can also record candidates' responses at forums to remind them of election promises later on, if they are elected. (Elections are a busy time for candidates; they may forget some important statements they make).
Consider volunteering in nonpartisan efforts. During election years, many civic and nonprofit organizations host voter registration drives and are always looking for volunteers to help. Ballot measure campaigns also look for volunteers to help collect signatures, to speak at events to help educate voters, and more. Check out the groups' websites to find out how you can connect.
Go vote! And remind your friends, family, and colleagues to go vote. If you are able, give someone a ride to the polls, if they need it.
Nonprofits can participate in election advocacy, but laws apply. Go to bolderadvocacy.org to find out more. You can also get AACF's advocacy guide to get more tips for nonprofit election advocacy.
Your Rights as a Voter
These organizations can assist you if you cannot access your polling place, are turned away from voting, or have other issues when exercising your right to vote.
American Civil Liberties Union Voter Protection Hotline: 877-523-2792
Disability Rights Arkansas: 800-482-1174
Election Protection Coalition Helpline: 866-687-8683
Para Español: Si se encuentra con dificultades al votar y necesita ayuda en Español, por favor contacte a Arkansas Unidos: 479-763-2822
Download this handout: Tips for Voters and Ways to Engage