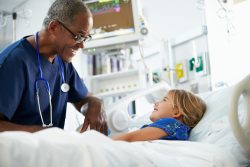 A statement from Arkansas Advocates for Children and Families
Today, the Senate announced that there will be no vote on the latest version of an Affordable Care Act repeal because this last-ditch effort fell short of the votes needed to pass it. This is a great relief in Arkansas, where the proposal would have devastated the state budget and threatened access to affordable coverage for tens of thousands of Arkansans.
This version suffered from the same flaws as the previous bills: it would have shifted billions of dollars in costs to states, removed millions of people from health coverage altogether, and increased premiums for everyone else.
Because so many of you took action, hundreds of thousands of Arkansans will keep their health coverage and people with pre-existing conditions have affordable coverage options. Children, seniors, and individuals with disabilities, who rely on the Medicaid program for consistent access to coverage, will continue to get the care they need.
While we can all take a moment to celebrate today's win, it is important that we keep fighting to protect the gains we have made in the health care system. There is much more work ahead as members of Congress continue to make important health care decisions.
Now, we need work to continue toward a bipartisan solution to stabilize the health insurance marketplace and reduce the costs of health care. We also need Congress to shift their focus back to reauthorizing funding for the Children's Health Insurance program before a looming September 30 deadline. This program funds coverage for 120,000 children on ARKids First health insurance.
Thank you for your support and for lending your voice as we continue to advocate for legislation that ensures every child and family have access to consistent health coverage that they can afford.