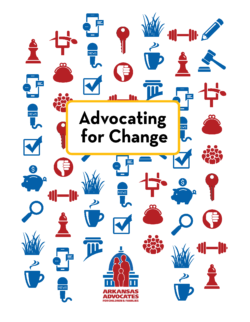 When Arkansas Advocates for Children and Families meets with people around the state, we hear similar stories: in El Dorado and Jonesboro, we hear about the negative impact of unfair rental laws on children's health. In Springdale and Little Rock, we're told of the ability of early childhood education to ensure kids' long-term success. In Russellville and Fort Smith, we learn about the damage done to families because of drug addiction. Statewide solutions are needed for many problems facing kids.
Public policy has the power to improve the lives of some 700,000 kids who call Arkansas home. If we want to solve problems and protect solutions, advocacy is the best tool for creating significant and lasting change to make Arkansas a great place for children and families. And kids are counting on us to use our voices to speak up for them when important decisions are being made at the local, state, and federal level.
We have seen the power of policy over the years. Child advocates pushed for the creation of ARKids First; major investment in the state's pre-K program, Arkansas Better Chance; several increases in the state's minimum wage; and significant reforms to Arkansas's juvenile justice system, to name a few.
AACF has created this advocacy handbook to help you in your policy advocacy efforts by providing tools and tips we have learned in our more than 40 years of advocacy for our state's kids. We hope this book will prove useful in helping you become a strong advocate and voice for Arkansas's kids.