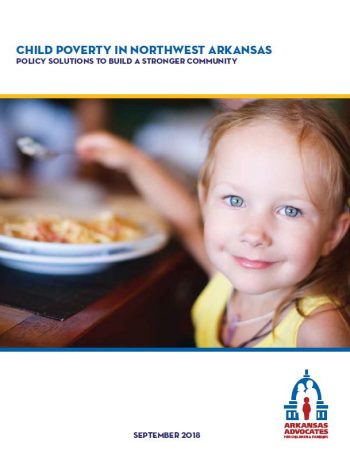 AACF's Springdale office opened in September 2008 and serves the community through researching the needs of children in the area and spreading that knowledge to help better the lives of children and families.
Our office is located in the Center for Nonprofits/JTL Shop in Springdale:
614 E. Emma Avenue, Suite 235
Springdale, AR 72764
(479) 927-9800
Read our latest Northwest Arkansas Child Poverty report, released in September 2018, here. A few of its findings:
Child poverty has decreased sharply since its recession peak, but many families still struggle to get by. Almost half of children in Northwest Arkansas – 48 percent – are growing up in families with low incomes, or combined incomes that aren't more than $41,560 for a family of three.
Income inequality has widened in Northwest Arkansas. In a study by the Economic Policy Institute, the region ranked 15th in inequality out of 916 metropolitan areas nationally. The top 1 percent of income earners made 37.5 times the income of the bottom 99 percent. That matches the gap in some of the nation's wealthiest enclaves, where affordable housing is increasingly hard to find.
A living wage in Northwest Arkansas for one adult with two children would be $25.06 per hour, triple the minimum wage. Almost half the region's children live in households with incomes lower than that.
Racial and ethnic income disparities persist, with children of color twice as likely to live in poverty as their white peers.
Almost 50,000 children in Northwest Arkansas have access to medical care through ARKids First or Medicaid. That's about 38 percent of all children in Washington, Benton, Madison and Carroll counties.