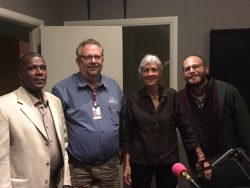 On April 26, 2017, at 5 p.m., Arkansas Advocates for Children and Families and KABF 88.3 aired the seventeenth episode of "Speak Up Arkansas," a talk radio show dedicated to covering issues like health care, education, juvenile justice, the state budget, family and economic security, and more.
This week's episode featured panel members Alex Handfinger (Arkansas Hunger Relief Alliance), Nancy Dockter (Great Day Natural Produce), Vic Ford (U of A Division of Agriculture & Cooperative Extension Service), and Ben Hood (a gardener & member of the Promise Garden at 12 & Peyton in Little Rock). In this episode, learn how to use backyard and community gardens to grow healthy food, cut cost, exercise, enjoy nature, and build strong links with your neighbors and community.
Hear the entire one-hour segment in this podcast and tune in to KABF 88.3 every Wednesday at 5 p.m. for more great segments. Send questions and comments to speakupar@gmail.com.