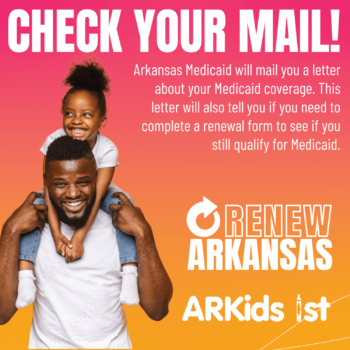 What's Happening
For the first time since the start of the pandemic, Arkansas DHS is going through a process to determine if hundreds of thousands of Arkansans with Medicaid health insurance, both children and adults, still qualify for coverage.
Over 370,000 Arkansans have lost their Medicaid coverage already, mostly due to procedural reasons, like not sending a form back to DHS–not because the state determined they were ineligible. Of those 370,000 Arkansans, some 135,000 are children.
A lot of people have moved since the start of the pandemic and DHS does not have their current address to send them information.
What You can Do
Post on social media, share flyers, and more using DHS's and the U.S. Department of Health and Human Services' toolkits to raise awareness. Here is a re-enrollment communications toolkit from communications firm GMMB. They also developed state-specific renewal flyers and loss of of coverage flyers.
Join our monthly Keeping Coverage Zoom meetings to discuss updates on the Medicaid eligibility redetermination process. We will talk about what you are hearing in your community, share updates on the process, and talk about ways you can raise awareness and help people keep their health care coverage. 
Let people know about legal aid resources. If you know anyone, who needs help navigating the Medicaid re-determination process, they can call Arkansas's legal aid hotline at 888-540-2941 for free assistance.
If Someone in Your Household is on Medicaid
Call the Update Arkansas hotline at 1-844-872-2660.
Go online at access.arkansas.gov. Medicaid clients can log in or create an account, and then add your current contact information.
Visit a local DHS county office to ensure your contact information on file is correct.
Anyone that missed the deadline to return your paperwork to DHS, may still submit the overdue documents to DHS. You have up to 90 days unless you receive long-term care services. You have 30 days to submit overdue paperwork for long-term care cases.
If you lose your Medicaid coverage and you think you are still eligible, you have 30 calendar days from the date on the letter to contact DHS and request a fair hearing for your Medicaid coverage. If the DHS Office of Appeals and Hearings does not get your request within 30 calendar days from the date on the letter your request will be denied. Those who file a request for a fair hearing will automatically have their coverage continued until there is a hearing decision.
You may email your request to DHS.Appeals@dhs.arkansas.gov or you may send your request by mail to:
Department of Human Services
Appeals and Hearings Section
P.O. Box 1437, Slot N401
Little Rock, AR 72203-1437
You can contact Legal Aid of Arkansas or Center for Arkansas Legal Services for help with this process.
Resources from Center for Arkansas Legal Services:
If you are no longer eligible for Medicaid coverage, you may apply be for other insurance coverage. Apply to the Healthcare Marketplace during the special enrollment period by July 2024.  Until July 31, 2024, if you lose Medicaid coverage due to the end of the public health emergency you are eligible to apply on healthcare.gov.
Want to learn more about Medicaid in Arkansas? Check out this fact sheet.