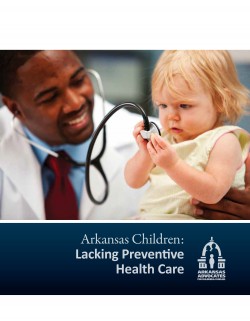 Just 38 percent of eligible Arkansas children are getting the regular, comprehensive doctor check-ups they need to stay healthy and avoid long-term problems, according to research by Arkansas Advocates for Children and Families. The federal standard is 80 percent of children eligible for Medicaid.
"Arkansas children are getting many more health services than in previous years, but we still have a long way to go," said Elisabeth Wright Burak, AACF Health Policy Director. "Too many children aren't getting enough health screenings that catch serious illnesses and diseases. Getting ahead of preventable health problems allows children to grow up healthy and ready to learn-and it saves the state money in long-term treatment costs."
This new AACF report lists many reasons for the low rate: lack of access to medical providers, low Medicaid reimbursement rates for medical professionals providing screenings, family barriers to access including transportation and parent work commitments, lack of education among parents and a lack of outreach to communities about the need for preventative screenings.
The Early Periodic Screening, Diagnosis and Treatment (EPSDT) program is a Medicaid requirement that ensures low-income children get preventative screenings and necessary treatment needed to catch diseases and health problems in early stages. Data show that regular, comprehensive check-ups reduce the number of avoidable hospitalizations in children of all backgrounds and income levels.
Federal rules say health providers must conduct full EPSDT screenings that include a physical and mental health assessment, an unclothed physical exam, immunizations and health education. It also must include lab tests of lead levels in younger children, as well as vision, dental and hearing services. Arkansas adds an additional requirement that providers offer nutritional information and calculate a child's Body Mass Index annually after age 2. The screenings are required at different times from birth through the teen years.
The low EPSDT screening rate in Arkansas puts the state last among states and Washington, D.C., although it's important to note that Arkansas has a higher standard for doctor documentation of services than other states.
Recommendations from the report to increase the use of health screenings for children:
Encourage the use of electronic medical records systems that allow providers to better track health screenings.
Increase screening reimbursement for providers, including incentives to improve the number of screenings and the quality of certain procedures, such as developmental screenings.
Use the state's new school wellness centers in pilot communities as models for better access to services.
Require children entering preschool or state-subsidized child care programs to get full EPSDT screenings.
Support for this project came from Arkansas Children's Hospital's Natural Wonders project, which brings leaders in the public and private sectors together to address children's health in Arkansas.