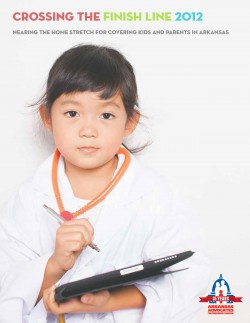 Want to know more about the state of children's health here in Arkansas?
As Arkansas's economy has begun to recover from the recession, ARKids First has been a vital resource to thousands of Arkansas families. The latest data on poverty in Arkansas shows that 27 percent of children under age 18 live in poverty compared to 20 percent nationally. ARKids First ensures that children in Arkansas have access to comprehensive, affordable health coverage even during tough economic times.
In fact, Arkansas ranks fourth in the nation at enrolling eligible children in Medicaid and ARKids First, with 92.5 percent of eligible children enrolled. It's not often that Arkansas can claim to be among the top states in health-related statistics, and we should continue working toward reaching number one.
We know that, for children who are enrolled in coverage, ARKids First works. ARKids First ensures children can get their well-child screens, specialist visits, dental exams, and eyeglasses, helping them succeed in school and at home. ARKids First means parents have the peace of mind that their child can get needed health care, no matter what. As we move toward a world where nearly all Americans have access to affordable, comprehensive coverage, it is important to keep a focus on helping children Cross the Finish Line where they ALL have health coverage.
This report will:
Examine data demonstrating progress in covering children
Identify areas that need more attention in order to cover all children
Outline policy and outreach opportunities to strengthen coverage
Explore why covering parents is important to children
Examine the status of Affordable Care Act implementation in Arkansas
Make recommendations for Crossing the Finish Line for Arkansas children