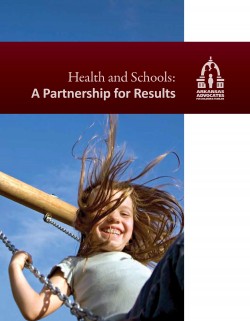 Addressing student health in schools increases academic performance and health of children, report shows.
SPRINGDALE – A growing movement to address the health needs of students on school campuses has the potential to improve the health and educational ability of more Arkansas children, according to a new report from Arkansas Advocates for Children and Families.
Partnerships between schools, health providers, community organizations, parents and children-called the Coordinated School Health approach-have improved the health and education of children in pilot programs and should be replicated around the state, according to the report "Health and Schools: A Partnership for Results."
More than 30 Arkansas school districts have at least one school using the Coordinated School Health model. They are supported by federal and state grants and a partnership between the Arkansas departments of education, health and human services. Each school district tailors the program to fit the needs of the students, community and available resources.
Nine of these districts created school-based health centers-called school wellness centers-with support from the 2009 tobacco tax increase championed by Gov. Mike Beebe. The centers provide preventive medical care and other services in the school building.
"Not only have we seen great results from these school health initiatives, but they are very affordable," said Elisabeth Wright Burak, AACF Health Policy Director. "The new school wellness centers take these partnerships to a new level. Health providers are going where the kids are to provide the basic, preventative services that catch issues that could lead to poor performance in the classroom or long-term illnesses."
AACF recommends that other school districts adopt the model using existing sources of money and support, including:
Using state "poverty" or "NSLA" money.
Partnering with the medical community to connect students to services.
Taking advantage of Medicaid reimbursement for health-related services provided in schools.
Helping connect students with health insurance.
Effective programs include eight components to be effective, including health education, physical education, preventative and emergency services, nutrition services, counseling and social services, a healthy school environment, promotion of health among school staff, as well as family and community involvement.
The report details how the model improves student learning, reduces risky behavior among students and improves child nutrition.
A new school-based wellness center in the Lavaca School District outside of Fort Smith provides preventative care for students and families, as well as general medical, dental, optometric, audiological and mental health care, Superintendent Jared Cleveland said.
"The Lavaca Wellness Center helps all of us focus on our quest to educate the whole child. In fact, it has helped build the bridge to improving student learning conditions for entire families at their base, the home," Cleveland said. "If students' basic needs are met, the chances of academic achievement improve dramatically."
Support for the research and report came from Arkansas Children's Hospital's Natural Wonders project, which brings leaders in the public and private sectors together to address children's health in Arkansas.
PHOTOS: The Wellness Center at Jones Elementary School in Springdale