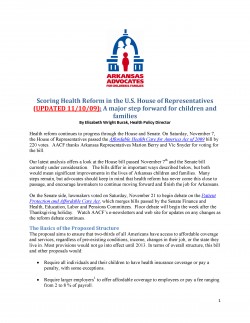 Health reform continues to progress through the House and Senate. On Saturday, November 7, the House of Representatives passed the Affordable Health Care for America Act of 2009 bill by 220 votes. AACF thanks Arkansas Representatives Marion Berry and Vic Snyder for voting for the bill.
Our latest analysis offers a look at the House bill passed November 7th and the Senate bill currently under consideration. The bills differ in important ways described below, but both would mean significant improvements in the lives of Arkansas children and families. Many
steps remain, but advocates should keep in mind that health reform has never come this close to passage, and encourage lawmakers to continue moving forward and finish the job for Arkansans.
On the Senate side, lawmakers voted on Saturday, November 21 to begin debate on the Patient Protection and Affordable Care Act, which merges bills passed by the Senate Finance and Health, Education, Labor and Pensions Committees. Floor debate will begin the week after the Thanksgiving holiday. Watch AACF's e-newsletters and web site for updates on any changes as the reform debate continues.