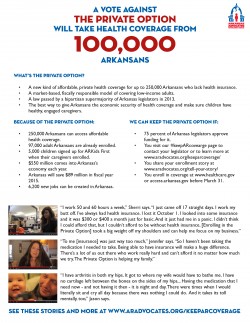 What is the Private Option?
A new kind of affordable, private health coverage for up to 250,000 Arkansans who lack health insurance.
A market-based, fiscally responsible model of covering low-income adults.
A law passed by a bipartisan supermajority of Arkansas legislators in 2013.
The best way to give Arkansans the economic security of health coverage and make sure children have healthy, engaged caregivers.
Over 100,000 Arkansans are already signed up for the Private Option.  Download this report to see the county-by-county breakdown.