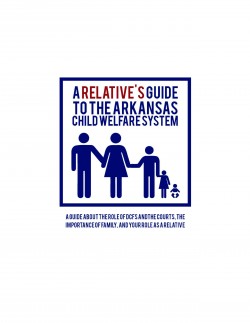 When a family member becomes involved in the Arkansas child welfare system, it can be a scary and confusing time for the child, the parents, and relatives. As a relative, you can play an important role in helping a child.
Children who are removed from their parents or guardian do better when placed with family members or people they know. Grandparents, aunts, and uncles are often willing to help and make the child feel safe and loved.
There is good news for grandparents and other relatives who want to be the foster parents, adopt, or become the guardian of their own family's child. By law, the Division of Children and Family Services (DCFS) at the Arkansas Department of Human Services (DHS) prefers adult relative caregivers over nonrelated caregivers. The relative caregiver must meet certain requirements. It must also be in the best interest of the child to be placed with the relative caregiver.
This booklet will help explain what happens when the child comes into the custody of DCFS. It also talks about the role of the court, the importance of relatives, and how you might be involved as a relative. Some information described below may not always happen one after the other. Often, many of these steps happen at the same time.