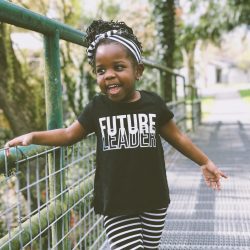 Study shows all states need faster expansion and greater investment in early childhood education
In The State of Preschool 2018 annual report, the National Institute for Early Education Research at Rutgers University found that Arkansas preschool state-funded enrollment increased, but funding hasn't kept up with inflation. State-funded programs serve 32 percent of 4-year-olds and 19 percent of 3-year-olds in Arkansas, based on 2017-18 academic year data. Arkansas does a particularly good job of serving 3-year-olds, compared to the national average of 5.5 percent of children that age enrolled in state-funded preschool programs.
As in Arkansas, more children nationally are attending state-funded preschool programs, but funding generally has failed to keep pace, undermining classroom quality. "We are disappointed by the lack of progress and concerned about how many children miss out on quality early learning experiences that can make a lifelong difference," said NIEER Founder and Senior Co-Director Steven Barnett, Ph.D. "Some states are moving in the right direction, but many are standing still."
In Arkansas, 3- and 4-year-olds are served in the state-funded Arkansas Better Chance (ABC) program, as well as in Head Start and private child care centers. The NIEER report addresses state-funded programs. Arkansas began the ABC program in 1991 as part of a statewide education reform initiative and has continued to prioritize early childhood education. The ABC program meets eight of NIEER's 10 minimum quality standards benchmarks (see box for Arkansas specifics). The two standards where Arkansas requires improvement relate to teacher degree requirements and staff professional development. Additionally, Arkansas does not require salary parity for preschool teachers with K-3.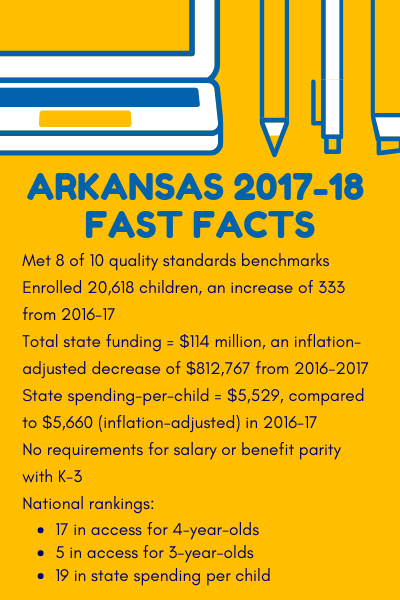 As part of the Invest Early Coalition, Arkansas Advocates for Children and Families (AACF) and our partners continually investigate and advocate for ways to improve early childhood education across the state. "The early childhood education workforce of today is building the foundation for Arkansas's workforce in the future," said AACF Executive Director Rich Huddleston. "We must increase investment in early childhood education program access and quality, as well as the workforce if we want a well-educated state ready to participate in the future economy."
With the support of AACF staff and our partners, state legislators began addressing education levels and salary parity for early childhood educators this year. In the 2019 legislative session, the Arkansas Senate took steps to help close the income gap and provide incentives for further educational attainment by proposing tax credits based on early childhood teachers' education levels. While the measure passed out of the Senate, time ran out on the bill before it could become law. We are taking steps to have the proposal revisited in the next regular session.
Additionally, Arkansas Rep. DeAnne Vaught is introducing an interim study to determine the feasibility of moving early childhood teachers with bachelor's degrees under the pay scale of teachers certified under the Department of Education.
Nationwide, almost 1.6 million children are enrolled in preschool, more than double the number since 2002. But expansion has slowed in recent years. In some states, slow growth is due to a shift from part-day to full-day programs, which can better support child development, as well as family work schedules, but nevertheless leaves many children underserved.
The State of Preschool 2018 yearbook was supported with funding provided by the Heising-Simons Foundation. For more information and detailed state-by-state profiles on quality, access, and funding, please visit www.nieer.org.
Read NIEER's full report here, and see its profile of pre-K in Arkansas here.