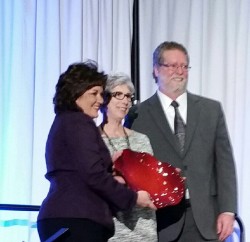 Today, Arkansas Advocates for Children and Families celebrates Dr. Joel and Lynn Donald Carver, whose visionary leadership has changed our state for the better. The Northwest Arkansas chapter of the Association of Fundraising Professionals honored Lynn and Joel today as Philanthropists of the Year. Because they are an example for all of us to do more to serve our communities, they deserve this honor.
Lynn, a longtime board member of AACF, has served and volunteered for our organization since the 1980s. She and Joel helped build much of the base of our community support in Northwest Arkansas, and their leadership helped create our regional office here.
The couple's generosity is admirable in and of itself, but the Carvers work hard for many charitable organizations and encourage others to do the same. They feel deeply responsible for the advancement of our community and state, including public policy that can improve the lives of families and children. They don't just do charity work; they do social justice work.
Lynn helped found Arkansas Support Network because her own family's experience taught her that all people should have the support they need when they or a family member has a disability. She devotes much of her personal time to causes close to her heart, including AACF but also Seven Hills Homeless Shelter, TheatreSquared, KUAF Radio, Arts Center of the Ozarks, Arkansas Out of School Network, First United Methodist Church, Springdale School District and so many others. As a trustee of the Harvey and Bernice Jones Charitable Trust, Joel helped found The Jones Center and the Centers for Nonprofits in Springdale and Rogers. As they do much of their community support behind-the-scenes, only they know the true extent of their impact.
Lynn accepted the award today at the National Philanthropy Day luncheon, showing her usual humility. "It's really a lot easier to be a giver than to receive an award like this," she said. She paraphrased this Maya Angelou quote as a good description of why they stay so involved in the community they love: "I have found that among its other benefits, giving liberates the soul of the giver."
Pictured: Gay Prescott, AFP president-elect, and Lynn and Joel Carver.