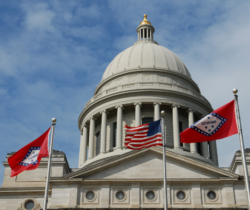 "We cannot allow a child's destiny to be determined by their zip code or the size of their parent's bank account. We know that students of every background can succeed if given a fair chance, a strong start, and a helping hand." – Governor Sarah Huckabee Sanders, January 10, 2023
With these words from her inaugural speech, Governor Sarah Huckabee Sanders has outlined a bold vision for Arkansas children that we will work hard to help her achieve. We must ensure that all children have the opportunities and resources they need to reach their full potential, a mission that we have long worked toward through public policy reform. We look forward to working with Governor Sanders as she and legislative leaders outline the specific reforms necessary to build the future that she outlined in her speeches on Tuesday. Some of that vision she outlined includes:
A state in which strong families thrive in safe communities.
More support for foster children and adoptive families.
Improving student reading levels and raising teacher salaries.
Expanding pre-k and early childhood educational opportunities.
We look forward to working with Governor Sanders on these laudable goals. We will also point out when policy proposals seem to be in opposition to building that vision, as well. For example, it's hard to comprehend how we can provide more support for foster families while at the same time freezing hiring in government, which Governor Sanders did yesterday through executive order. State investments in human capital and public services can help promote equitable economic growth and create an environment where every Arkansan can flourish regardless of their income, race, or zip code.
The Governor, in exempting the Department of Corrections and the Department of Public Safety from this rule, acknowledges the necessity of using state dollars to support critical public services that improve the lives of Arkansan families. We simply believe that the workforces taking care of our foster children, those providing services that help children and families directly, are just as central to the success of our state as police and prison guards.
And if we want to ensure that all children, regardless of background, meet their full potential, we must ensure that teachers aren't stymied in their teaching of our nation's and our state's history. Governor Sanders signed an executive order that would prohibit "indoctrination" and teaching of Critical Race Theory in Arkansas schools. While it's doubtful that the legal academic framework of Critical Race Theory is taught in our public schools now, we are concerned that the order will amount to a ban on racial discourse and a denial of our nation's legacy of racial oppression. It would also create the type of state government overreach into classrooms that Governor Sanders says she opposes.
We definitely agree that schools shouldn't violate equal protection in the classroom, as the order states. But we should trust that our teachers are the experts capable of doing that work without interference. Our children deserve to know their own history, and the history of their communities and country.
It will also be difficult to ensure that children have better educational opportunities, especially in the early years, at the same time we're working toward eliminating the state income tax. Our state's personal income tax makes up about half our state general revenue, and we can't lose half of our revenue without cutting services or raising taxes elsewhere. Most of the benefits of eliminating the income tax will go to Arkansans with higher incomes, and those alternatives – cutting services and raising other types of taxes – will fall more heavily on everyday Arkansans. Arkansas currently has the third highest state and local sales tax rate in the country, and most Arkansans already pay more of their paychecks on sales taxes than state income taxes.
While we won't agree on every policy initiative, we welcome our new Governor, the first woman and first mother of young children, to take the helm of our great state. She brings to the office a unique perspective on what will help Arkansas families thrive. We couldn't agree more that children of every background can succeed if given a fair chance, a strong start, and a helping hand. We look forward to making it happen alongside our state's new leaders.