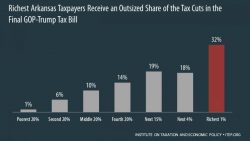 After the House and Senate voted last night to pass the GOP tax bill, Rich Huddleston, Executive Director of Arkansas Advocates for Children and Families, released the following statement:
The GOP tax plan passed last night by Congress is nothing more than an expensive giveaway to major corporations and wealthy households that offers little or nothing to most Arkansas children and families and ultimately hurts many. The plan will end health care for millions of Americans, raise premiums, and increase deficits by $1.5 trillion, which will in turn be used to justify dangerous federal budget cuts that threaten the well-being of Arkansas's working families. The tax cuts in the bill are tilted dramatically in favor of the richest Arkansans at the expense of Arkansas's low- and middle-income families. In fact, under the GOP Tax Bill, in 2019 the wealthiest 1 percent of Arkansans — those making more than $467,000 a year — will receive 32 percent of the tax cuts. In contrast, the bottom 60 percent of Arkansas taxpayers — those making less than $57,000 a year — will receive a paltry 17 percent of the benefits. It only gets worse in the future, as low- and middle-income families will eventually have to pay more in taxes after 2025, when certain provisions in the bill expire.
Most of the nation's top economic experts, as well as a large majority of the American public, agree that these tax cuts will do little to promote the economic growth that has been promised by Congressional supporters. It is no surprise that this is the most unpopular tax legislation in three decades.
On the heels of this damaging tax bill, President Trump and Speaker of the House Paul Ryan say they intend to come back next year and seek deep budget cuts that would further hurt low- and middle-income people by targeting everything from nutrition assistance for families to education, Medicaid, and infrastructure. And because proposals to cut federal spending almost always involve shifting costs down to state and local governments, this agenda will put even more pressure on Arkansas's budget, with cuts to state services with widely shared benefits — such as schools, roads, parks, libraries, fire departments, and police departments — likely to follow. Arkansas Senators Tom Cotton and John Boozman and Representatives Hill, Crawford, Westerman, and Womack voted for this plan that will ultimately harm Arkansas families. The question all Arkansans should ask them in the coming months: Will they make it worse by supporting cuts in critical programs in 2018?
It is bad enough for Congress to shower unneeded tax breaks on the wealthy, and it is simply wrong to pay for them by taking away health care, food assistance, and other programs that help struggling families make ends meet. The whole Arkansas delegation should commit now to stand against budget cuts that would further hurt everyday Americans and Arkansans.
###
Arkansas Advocates for Children and Families is a statewide, nonprofit child advocacy organization established in 1977. AACF's mission is to ensure that all children and their families have the resources and opportunities to lead healthy and productive lives and to realize their full potential.