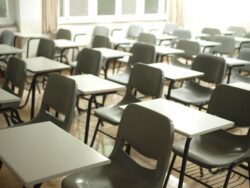 We are devastated by the news of yesterday's killing of two school teachers and 19 elementary students at Robb Elementary School in Uvalde, Texas. Today, those children should have been loading up their backpacks with leftover school supplies from their desks. Instead, their lives ended before their summer break could begin.
In 2020, firearms became the leading cause of death for American children ages 1-19, and while mass shootings make up a relatively small percentage of those deaths, more than half were from homicides, and every single one was preventable.
Schools should be a place where children not only feel safe, but are safe. No child should ever die from a gunshot wound.
Prior to 2020, automobile accidents were the leading cause of death for our kids. But not only have deaths by gun violence risen, but deaths from car crashes have also declined. As a society, we made the choice to treat car crashes as a public health crisis. We decided to make cars safer, and the policies put into place have made a difference.
Gun violence is a public health emergency. There are effective gun violence prevention laws that have been proven to reduce gun violence where enacted.
Thoughts and prayers will never be enough to address this public health crisis. The time to act is now.
Arkansas Advocates for Children and Families will support data-driven legislation proposed to improve gun safety, to prevent the loss of our children to gun violence.