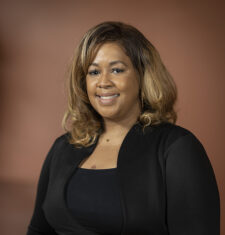 Keesa Smith
Executive Director
Keesa Smith became Executive Director of AACF in February 2023.
Keesa worked for the Arkansas Department of Human Services from 2013 until 2023 as the Deputy Director of Youth and Families. In that role, she oversaw the divisions responsible for the state's child welfare, juvenile justice and early education programs during a time of significant transformation.
Keesa earned a Bachelor of Arts in Journalism and Mass Communication from the University of North Carolina at Chapel Hill and her Juris Doctorate from the University of Arkansas at Little Rock Bowen School of Law. She is a member of the Pulaski County Bar Association; the Harold Flowers Law Society; the Beta Pi Omega chapter of Alpha Kappa Alpha Sorority, Inc; the inaugural class of the Arkansas Bar Association Leadership Academy Program; Class XXVI of the Greater Little Rock Leadership program; and she is a 2021 Aspen Institute Ascend Fellow.