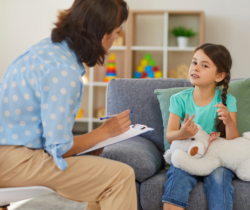 Building a Bridge to Happiness and Well-Being
The childhood mental health crisis has been on the rise for years. The COVID-19 pandemic has only exacerbated that crisis among children, not only in Arkansas, but throughout the country. According to data released as part of the 2022 KIDS COUNT® Data Book, a 50-state report of recent household data developed by the Annie E. Casey Foundation, between 2016 and 2020, Arkansas had the third-highest increase in childhood depression and anxiety, behind California and South Dakota.
The rising trends in childhood mental health problems related to the pandemic led the American Academy of Pediatrics to declare a national emergency in child and adolescent mental health in 2021. The pandemic caused schools to shut down, recreational activities to come to a halt, and children and families to stay in their homes as much as possible in order to ensure their physical safety. We couldn't foresee the impact of isolation on their mental well-being because we had no idea the length of time children would be taken out of their normal routines.
As with many of the child well-being indicators in the Data Book, there are racial disparities in the rates of depression and anxiety in children in Arkansas. Arkansas's African American children ages 3-17 had the highest rate of anxiety or depression (17%). By comparison, 14.8 of Arkansas's White children had anxiety or depression.
States that have had the most success at reducing the rates of children being diagnosed with depression or anxiety do a much better job than Arkansas at investing in the programs and services needed in communities to address and support those with mental health diagnoses.
In Illinois, from 2016-2020, there was a 16.8% decrease in the percent of 3-17-year-old children with anxiety or depression. In an effort to keep the momentum, Illinois Governor Pritzker launched an initiative in 2022 to improve behavioral health services for children.
The Children's Behavioral Health Transformation Initiative will evaluate and redesign the delivery of behavioral health services for children and adolescents within the state. Illinois increased funding to support children's overall welfare and well-being. Program funding will support children receiving services for developmental disabilities and complex behavioral health needs. School systems grounded in mental health and trauma will develop and implement a comprehensive program designed to help Medicaid-enrolled children under age 21.
The initiative will also do a step-by-step review of existing systems in order to support Illinois children and families. This will entail examining: the needs of children requiring behavioral health services; allocation of resources to meet existing program needs; pathways for accessing needed services; eligibility requirements; decision-making practices for the allocation of resources; barriers to effective interagency coordination; infrastructure needs to support new pathways and existing programs; the alignment of policies, rules and regulations to support transparent, efficient and effective service delivery; and best practices from other comparable child-serving systems across the country.
In Mississippi, the rate of anxiety and depression among children decreased by 10.1% from 2016 to 2020. The Mississippi Department of Education has worked to build on the positive trends of decreased mental health diagnoses by increasing access to mental health services for children. Beginning August 2022, Mississippi will use some of its federal pandemic relief funds for free telehealth and teletherapy services in schools. Healthcare providers will offer urgent care, mental health care, remote patient monitoring, and specialty consultations to children in any district across the state that has access to a school nurse.
The Youth Mental Health First Aid Training provided through the Mississippi State University Extension Service is available to adults that interact with youth in rural Mississippi.
As a state with such poor outcomes for childhood mental health, Arkansas needs to expand its resources to youth. If Arkansas wants to make the kind of progress that other states have in combatting the childhood mental health crisis, we should use our state budget to invest in our children and families. Funding to increase the provider workforce targeting high-risk communities is imperative to meet the needs of the children's mental health crisis in Arkansas. Also, funding should target programs to focus on preventive and early childhood services, center the concerns of special populations, provide suicide-prevention services, address substance use and abuse, increase access to high-quality services, and improve the rate reimbursement for Medicaid services. Every program will need to be accessible to all young people throughout the state in a variety of settings. Without these changes, we should expect to continue to see our children struggling with the impact of mental health problems.