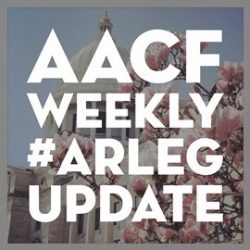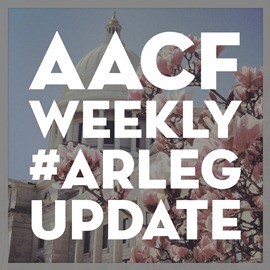 It was a busy week here in Little Rock! Bills are beginning to make their way to the Governor's desk, and more bills are being filed every day.
For our video update this week, we caught Sen. Irvin right after her bill, SB152 (read more about it below), passed out of committee on Wednesday.
CONSTITUTIONAL CONVENTION: Senate Joint Resolution 3, which passed in the Senate last week and would add Arkansas to a list of states calling for an Article V Constitutional Convention of the United States, passed out of the House Committee on State Agencies and Governmental Affairs and is expected to be heard on the House floor next week.
ECONOMIC SECURITY: On Thursday, Sen. Jimmy Gazaway filed House Bill 1410, which creates an implied warranty of habitability for residential rental property. The bill would require landlords to keep their rental properties in livable condition. Arkansas is the only state without such a law.
EDUCATION: Senate Bill 153, which requires plans for school-level improvement, professional development, curriculum and graduate studies to align with the Science of Reading, cleared the House and moves to the Governor's desk to be signed into law.
House Bill 1145, which would raise Arkansas's minimum public-school teacher salary from $31,800 to $36,000 by 2023, cleared the House floor this week and has been referred to the Senate Education Committee.
HEALTH: Senate Bill 151, which would designate the Winthrop P. Rockefeller Cancer Institute at UAMS as a National Cancer Institute and create a National Cancer Institute Designation Fund, passed off the Senate floor and has been referred to the House Committee on Public Health, Welfare and Labor.
House Bill 1302 passed out of the House Public Health, Welfare and Labor Committee this week. The bill aims to address occupational licensing regulations, to reduce barriers for licensed professionals to enter Arkansas's labor market.
INSURANCE AND COMMERCE: Senate Bill 113, which would abolish the Board of Directors of the Arkansas Health Insurance Marketplace and transfer the Marketplace to the State Insurance Department, this week passed out of the House Committee on Insurance and Commerce.
JUVENILE JUSTICE: Senate Bill 152, passed off the Senate floor and has been referred to the House Judiciary Committee. The bill would make significant reforms to the state's juvenile justice system using a validated risk assessment; a plan to divert juvenile offenders into options that fit their individual risk and needs; and a reinvestment of funds into evidence-backed, community-based services.
TAX AND BUDGET: Senate Bill 211, which is the Governor's individual income tax cuts plan, made it through committee and the Senate floor vote, and we expect it to go to the House Committee on Revenue and Taxation next week.
Did you know both chambers are streaming live? Watch your legislators in action and find archived recordings here: House of Representatives; Senate.
As the session progresses, we will continue tracking bills that could affect the welfare of children and low-income Arkansas families. Keep an eye on our blog for the latest news and updates, and follow us on Facebook and Twitter for additional thoughts and analysis.