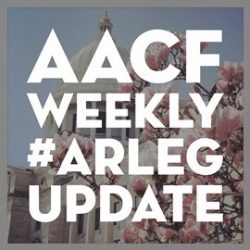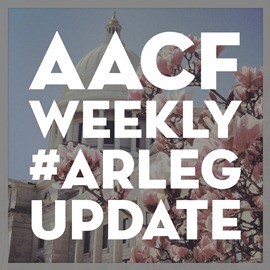 This week, attention at the Capitol turned to government transformation proposals, which would combine state agencies and reduce the number of Cabinet-level officials who directly report to Gov. Asa Hutchinson. That has slowed some day-to-day action in the session, but we saw movement in a number of key legislative areas.
We've got Rep. Nicole Clowney on video to tell us about what she's excited to be working on this session.
Here are this week's developments we're tracking:
New Bills
EDUCATION: Senate Bill 381 was filed this week by Sen. Elliott and Rep. Vaught. It would prohibit the use of corporal punishment for students with disabilities. Arkansas is one of 19 states that allows the use of corporal punishment in schools.
92ND REGULAR SESSION: House Concurrent Resolution 1006 would extend the session till May 6th, though the General Assembly could adjourn earlier.
Moving Right Along
ECONOMIC SECURITY: House Bill 1410, which would require landlords to keep their rental properties in livable condition is expected to be heard in the House Insurance and Commerce Committee next week. Arkansas is the only state without such a law.
TAX AND BUDGET: Senate Bill 336, part of the Governor's overall highway funding plan that includes fuel tax increases, increased fees on electric and hybrid vehicles, and a plan to use casino revenues to pay for highways passed the Senate and heads to the House Committee on Revenue and Taxation next week.
ADOPTION: The House Committee on Aging, Children and Youth, Legislative and Military Affairs recommended passage of House Bill 1488, which would change adoption law in Arkansas. The bill's sponsor, Rep. Clint Penzo of Springdale, told the Arkansas Democrat-Gazette that the proposed change is in response to unscrupulous adoption practices in Northwest Arkansas, where "there is currently an issue with kids being paid for."
Heading to the Governor
JUVENILE JUSTICE: Senate Bill 152, is headed to the Governor's desk. The bill will make significant reforms to the state's juvenile justice system using a validated risk assessment; a plan to divert juvenile offenders into options that fit their individual risk and needs; and a reinvestment of funds into evidence-backed, community-based services.
Signed into Law
TAX AND BUDGET: Senate Bill 211, which contains the Governor's individual income tax cut plan, was signed into law as Act 182.This plan would phase in a reduction to the top tax rate from 6.9% to 5.9% and would cost between $97 and $157 million in lost yearly revenue
EDUCATION: House Bill 1145 became Act 170. It will raise Arkansas's minimum public-school teacher salary from $31,800 to $36,000 by 2023.
---
Did you know both chambers are streaming live? Watch your legislators in action and find archived recordings here: House of Representatives; Senate.
As the session progresses, we will continue tracking bills that could affect the welfare of children and low-income Arkansas families. Keep an eye on our blog for the latest news and updates, and follow us on Facebook and Twitter for additional thoughts and analysis.