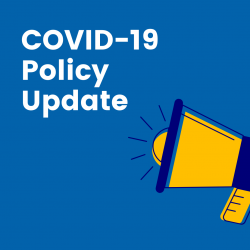 A lot has been happening at the state and federal level in response to COVID-19. Below is a breakdown of major legislation and actions that have passed, been implemented, or are moving through Congress or the state General Assembly, so far. Moving forward, Arkansas Advocates for Children Families will work to keep you updated on policy news at the end of each week.
State COVID-19 Response
Special Session on the State Budget: Governor Hutchinson has called a special session of the Arkansas General Assembly that is currently underway. The session was called to allow the state to tap into $173 million of surplus revenue to address a projected budget shortfall of $353 million over the next three months. Passage of legislation allowing the use of surplus funds will not fully address the budget shortfall. Cuts will also be made following a process outlined in the Revenue Stabilization Act and will be apportioned equally across state agencies, but agency heads will have some discretion as to how to allocate those cuts.
Unemployment Benefits: The state has waived the one-week waiting period for individuals to apply for unemployment insurance. For individuals who work at businesses that are temporarily closed, but plan to reopen, the state has also waived, for 30 days, the requirement for seeking employment while receiving unemployment insurance. There is also a new option of applying for unemployment insurance online or by phone. You can apply here.
Tax Filing Deadline: The state's tax filing deadline for individuals has been pushed back to July 15th to mirror the extension at the federal level. The corporate deadline for filing taxes is still April 15th.
Business Support: Arkansas will use federal Community Development Block Grant funding combined with state Quick Action Closing Funds to make $16 million in loans available to small business and nonprofits. Loans of up to $2 million can be provided.
Food Assistance: Work reporting requirements for the Supplemental Nutrition Program (SNAP), formerly known as food stamps, have been waived until the end of April. The Department of Human Services has also adopted an expedited process for determining eligibility for SNAP benefits for those who have lost income because of COVID-19.
Health Care: The state has dedicated $30 million to the Governor's Disaster Fund to purchase personal protective equipment (PPE), like masks, for health care professionals and first responders. The first shipment of this equipment is expected this weekend. The Governor said that this would allow for Arkansas to have enough PPE for 60 days, at the current usage rate.
The Governor also announced a plan to provide $55 million in payments to non-physician direct care workers like nurses. The workers would receive $1,000/month or $2,000/month if they work at a facility treating COVID-19 patients. Tens of millions of dollars would also be dedicated for rural hospitals and residential care facilities to address the COVID-19 crisis. And $19 million would also go towards expanding access to telemedicine. The plan requires approval and funding assistance from the federal government, based on a Medicaid waiver request which the Governor said he expects to receive.
You can get the latest COVID-19 updates from the Department of Health here.
Social Distancing: The Governor has banned gatherings of more than 10 people. The directive does not apply to outdoor spaces where social distancing of at least 6 feet can easily be achieved. Some exemptions include government meetings and at businesses, though the recommendation of keeping 6 feet of social distancing is maintained.
DHS Adapting: The Department of Human Services has made changes encouraging the public to avoid in-person visits to DHS county offices and is allowing fewer people in the lobbies at the same time, increasing wait times. People are encouraged to apply online at www.Access.Arkansas.gov or use the phone application option by calling 1-855-372-1084. County offices will be installing drop-off boxes for paper applications. And, required SNAP interviews may be conducted by phone rather than in-person.
Child Care Programs: Ending on March 27th, the state temporarily increased voucher payments to child care centers. The increase applied only to children already receiving childcare vouchers. Starting on March 18th, the Department of Human Services also suspended the renewal process for families for childcare vouchers for 30 days.
Foster Care: To address increased care needs because of school and child care closures, the state will be paying foster care families an additional $500/month.
Housing for Homeless Individuals: The state will be working with cities to provide funding for single-family housing units for homeless individuals during the crisis.
Federal COVID-19 Response
C.A.R.E.S. Act: The $2 trillion "Coronavirus Aid, Relief and Economic Security Act," called the CARES Act, passed through Congress and is on its way to the president's desk.. It offers aid to families, small businesses, nonprofits, big business and the newly unemployed.
It includes direct payments to an estimated 90 percent of American families with a one-time direct deposit up to $3,400, depending on income and family size. It increases unemployment benefits for four months by $600 a week, on top of what states pay – an amount that will fully replace the wages of many laid-off workers. It also extends the allowed time for unemployment benefits by 13 extra weeks (the current limit in Arkansas is 16 weeks).
It dedicates funding to grants and loans for small businesses and child care providers, and it provides support to hospitals and the health system. In addition, it provides funding for COVID-19 testing at no cost to patients. It did not include payment for testing or direct financial payments to many immigrant families.
Families First Act: Last week, Congress passed and President Trump signed the Families First Coronavirus Response Act, which among other things made changes to Medicaid and SNAP (food stamp) policies. For example, the new law requires states to keep eligible people enrolled in Medicaid during the national emergency. It extends the time that families can remain on SNAP and temporarily lifts restrictions on "able bodied working adults," like the SNAP work-reporting requirement in Arkansas. It allows quicker processing of new applications and allows states to create a pandemic-specific SNAP program that would give families the money to pay for meals that would have been covered by their children's school meals program, if schools were open.
Virtual Policy Conversations
Over the next few weeks, Arkansas Kids Count Coalition will be hosting a series of virtual conversations on policies impacting kids and families in the state, both due to the pandemic, but also ongoing policy issues. Details of the first two conversations are below.
Economic Security
When: Wednesday, April 1st, from 1:30pm-2:30pm
Where: Zoom video and audio conference
Join Arkansas Kids Count Coalition for a virtual conversation on economic security policy. We will talk about how the economic downturn and pandemic is impacting the financial security of families in our state and policies that are needed both in the short and long term to protect families' economic wellbeing. We will also discuss the state's budget shortfall and measures that have been taken by the Governor and General Assembly. The conversation will be led by Janie Ginocchio with Southern Bancorp Community Partners and Bruno Showers from Arkansas Advocates for Children and Families. Janie and Bruno will start with an overview of the current policy landscape, but most of the meeting will be dedicated to a discussion with participants.
Food Insecurity
When: Wednesday, April 8th, from 1:30pm-2:30pm
Where: Zoom video and audio conference
Join Arkansas Kids Count Coalition for a virtual policy conversation on food insecurity. We will talk about emergency assistance needs because of coronavirus, as well as long term policies that are needed to decrease food insecurity in the country and our state. The conversation will be led by Tomiko Townley with Arkansas Hunger Relief Alliance and Melvin Clayton from Arkansas Advocates for Children and Families. Tomiko and Melvin will start with an overview of the current policy landscape, but most of the meeting will be dedicated to a discussion with participants.