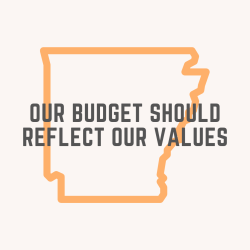 AACF is extremely disappointed in today's decision by the Arkansas Legislature to approve a more than half-a-billion income tax cut that will disproportionately benefit the wealthy and profitable corporations.
Arkansans are still hurting from the pandemic, especially families with low incomes. We should be investing in our communities by hiring caseworkers for the underfunded foster care system, helping the thousands of Arkansans who have been waiting for home and community-based care for years, helping Arkansans afford the childcare they need to be able to get back to work, making sure Arkansas workers have the skills to compete in a global economy, and so much more.
Instead, rather than investing in Arkansas communities, much of the state's lost revenue will be passed on to wealthy corporate shareholders whose incomes have grown during the pandemic — many of whom don't even live in Arkansas.
We've been asked, "How much is enough?" when we advocate for better state funding for essential programs for Arkansans. We have to think about the Arkansas we want to become. Right now, it's a tough time to be a kid in Arkansas.
We will say "enough" when 151,000 children aren't living in poverty, when 41,000 kids ages 3 and 4 are attending preschool, when we don't have 71 percent of our fourth-graders reading below grade level and 73 percent of our eighth-graders performing math below grade level. It'll be enough when 43,000 children aren't going without health insurance and when we aren't ranked 49th in maternal health outcomes. It'll be enough when we don't have the highest teen birth rate in the nation.
These are solvable problems, and the state government has the ability and the obligation to help make Arkansas a better place to be and raise a kid.
We applaud those legislators who saw a better way forward for Arkansas and voted against this legislation that hampers our ability to invest in helping Arkansas's families meet their needs and making sure all Arkansans have the tools to succeed in today's economy as well as tomorrow's.