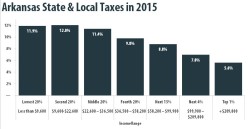 Arkansas ranks eleventh in the nation when it comes to taxing the poor. The poorest Arkansans, those making under $16,000 per year, pay two times more in taxes as a percentage of their income than wealthy Arkansans who make over $357,000 per year.
A new study released today by the Institute on Taxation and Economic Policy (ITEP) puts Arkansas among the most unfair tax systems in the country. According to the study, Arkansas's tax system is unfair, or regressive, because the lower someone's income, the higher their tax rate. This is in part because Arkansas, like most other states, relies more heavily on sales taxes to raise revenue and relies less on personal income taxes, which tend to be more progressive.
"We already have a lot of income inequality in Arkansas, and our tax system is making the gap between the rich and poor even wider," says Eleanor Wheeler, senior policy analyst for Arkansas Advocates for Children and Families (AACF). "Recent changes in the tax code, like increased capital gains tax exclusion and individual income tax reductions, have made this unfair tax structure even more imbalanced."
According to the study, Arkansans earning less than $16,000 a year pay about 11.9 cents for every dollar they earn in state and local taxes while those making more than $357,000 a year pay only about 5.6 cents.
Low income earners also pay about seven times as much in sales and excise taxes as a share of their income compared to the super rich. A top one percent earner will pay about 1.3 cents to sales and excise taxes for every dollar earned, someone making about $9,100 a year will pay 9.2 cents.
"Tax cuts being considered this session will do nothing to help low-income tax payers who have been left out of the economic recovery," Wheeler says. "We're concerned about the impact it will have on the state budget and our ability to fund critical programs. We have schools that we need to pay for. We have elderly citizens that need to be taken care of. Our tax dollars pay for these things and a whole lot more. We haven't had an increase in pre-K funding for eight years and we're talking about giving ourselves less money to work with?"
Arkansas has come a long way because of decisions to invest in an educated workforce, and make sure our children have the quality childcare they need. The choices we make now will determine if we continue to move forward or fall behind. Arkansas can build a strong economy if we work together to create a tax system that is fair for everyone.