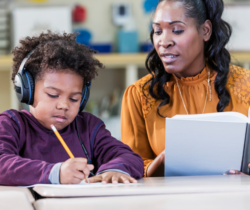 This has been a busier back-to-school season than most with the LEARNS Act setting into motion as Arkansas's kids get back into the classroom. LEARNS has been confusing for many Arkansas families. To help simplify what the act means for Arkansas's students, we published a section-by-section summary here.
For parents who have students with disabilities, the new Education Freedom Accounts may be appealing. These vouchers give students public money to attend private schools.
But here's a factor to consider: private schools don't have to follow the same federal requirements as public schools.
For example, private schools don't have to provide Individualized Education Plans (IEPs) for students who need special education. By law, public schools must. And a private school may or may not be accessible to a student with a physical disability. Thanks to the Americans with Disabilities Act and the Individuals with Disabilities Education Act (IDEA), public schools must be accessible.
Also, under IDEA, students with disabilities have a legal right to a free, appropriate public education. When accepting Education Freedom Account funds, a parent waives their child's rights.
Does this mean that there are no private schools offering special education services? Of course not! But it's important to keep in mind that they aren't required to. And it's possible that even if they do, they won't be as comprehensive as the local public school.
Every parent of a child with disabilities wants the best, most appropriate, environment for their student to thrive alongside their peers. Understanding the landscape and legal context can help parents make the most informed decision.