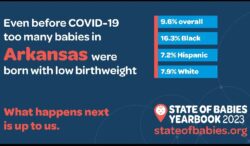 ZERO TO THREE Releases the Fifth Annual State of Babies Yearbook: 2023 Showing Arkansas Still Has Work To Do To Support Babies
New data released in the State of Babies Yearbook: 2023 by the national advocacy group, ZERO TO THREE, the nation's leading early development nonprofit dedicated to ensuring all babies and toddlers have a strong start in life, shows infants and toddlers in Arkansas face increasing challenges related to income inequality, housing, child care, physical health and mental health.
The data shows America's babies are increasingly diverse and that poverty and disparities in access to resources continue to be defining features of a baby's experience.
Arkansas was among 13 states across the United States to earn a bottom ranking. The State of Babies Yearbook: 2023 shows that the littlest Arkansans face big challenges, and that effective policies and programs in Arkansas can make a difference in their ability to reach their full potential. The Yearbook highlights areas where Arkansas must do better for its babies.
Children in Arkansas, particularly those living in families with low incomes and who are Black, Indigenous and People of Color (BIPOC), face daunting obstacles created in large part by historic and persistent inequities and inadequate wage structures that make it difficult for them to reach their true potential.
The State of Babies Yearbook: 2023 highlights five public policy areas where, if bold action is taken, can dramatically improve outcomes for babies across America. These policy areas are:
The crisis in maternal and infant health
Seizing the opportunity to promote positive infant and early childhood mental health.
A commitment to early care and education as a public good.
The hidden developmental threat of unstable housing.
The economic insecurity that engulfs many babies.
The Yearbook compiles more than 90 indicators – specifically for children ages 0 to 3 – to measure support for babies and their families. States are evaluated against these indicators and grouped into four tiers that represent progress toward implementation of policies that improve outcomes for babies. The data reveals that the states that are making progress include Alaska, Colorado, Connecticut, Maine, Maryland, Massachusetts, Minnesota, New Jersey, Oregon, Rhode Island, Vermont, and Washington.
"Babies have unlimited potential and every baby deserves the opportunity to thrive," said Miriam Calderón, Chief Policy Officer of ZERO TO THREE. "The data confirm that many families with infants and toddlers in conditions that science tells us can have a detrimental impact on healthy development."
"The pandemic is over, but for millions of babies and their families, the state of emergency continues. The Yearbook is far more than a collection of data and insights; it's a fervent call to action to stand as champions for change," Calderón continued. "We stand at a crossroads of policy and possibility. We are asking Congress, the Biden Administration and state leaders step up with lasting commitments to support young children and families. Urgent action is needed if we are going to make progress on the systemic challenges that babies and families, particularly our babies of color and those experiencing low incomes face."
The State of Babies Yearbook: 2023 is available at www.StateofBabies.org.