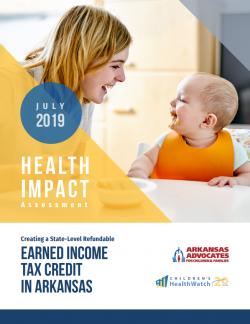 Benefits of state-level EITCs go beyond economic, have positive effects on children's health
Arkansas Advocates for Children and Families, along with Children's HealthWatch, today released an assessment examining the potential health-related effects of creating a state-level, refundable Earned Income Tax Credit.
The federal Earned Income Tax Credit (EITC) pays a fixed percentage of low-income workers' earnings back at tax time, eventually phasing out once their income is above the threshold. The District of Columbia and 29 states have state-level EITCs based on a percentage of the federal EITC.
An Arkansas EITC has been proposed in the past several legislative sessions, but it has yet to make it to the governor's desk. Nearly 300,000 low-income Arkansas households would qualify for a state EITC.
Previously, researchers estimated a refundable Arkansas EITC would cost approximately $39 million if set at five percent of the federal credit. However, new research shows that the effects of the EITC contain self-financing attributes through decreases in public assistance received by mothers and increases in payroll and sales taxes paid, reducing the cost by around 90 percent.
While the justification for the tax credit has largely focused on the economic benefits it would provide, recent evidence has found that receiving an EITC can improve health, especially for children and single mothers. States that have expanded the EITC have seen improved self-reported health status and reduced self-reported symptoms of depression among mothers, better diets and increased food security.
The Health Impact Assessment (HIA) considered Arkansans' baseline health outcomes to determine if the adoption of a state-level EITC would lead to improved health for the state's residents. The HIA found that an Arkansas EITC would not only improve economic conditions, it would also help shift more households with children into a higher health status category, likely reducing health services use and overall health care costs.
By enacting an EITC in Arkansas, the state could expect the following improvements in particular:
Reduction in the rate of low-birth-weight births
Improved Behavior Problems Index scores for children
Reduction in adult obesity
Arkansas Advocates for Children and Families and Children's HealthWatch conclude that creating a state-level, refundable EITC may be one of the most effective ways to address the poor health outcomes experienced among Arkansans. The HIA finds that the credit would counteract many poor health outcomes manifested by longstanding poverty throughout the state. Download the assessment, executive summary and policy brief here.
About Arkansas Advocates for Children and Families
Arkansas Advocates for Children and Families is a statewide, nonprofit child advocacy organization established in 1977. Our mission is to ensure that all children and their families have the resources and opportunities to lead healthy and productive lives and to realize their full potential. Visit www.aradvocates.org for more information.
About Children's HealthWatch
Children's HealthWatch is a nonpartisan network of pediatricians, public health researchers, and children's health and policy experts. Our network is committed to improving children's health in America. We do that by first collecting real-time data in urban hospitals across the country on infants and toddlers from families facing economic hardship. We then analyze and share our findings with academics, legislators, and the public.